A global success
Since we first launched Tes Resources, we've come a long way with you, our author community. We've achieved an astonishing 1.3 billion+ resource downloads across more than 190 countries and we're proud of our continuing global impact. In the last school year, the combined total value of your sales was up by a massive two thirds on the year before, and we're on track for another successful year ahead.
But our old royalty tier system is no longer sustainable
To ensure we keep growing, and that you continue to share in the benefits of Tes Resources, we need to change what we incentivise. The current model is geared towards rewarding quantity: the more you upload, the better your royalty rate. This was a good strategy when the marketplace was in its infancy. But we're now at a point where encouraging sheer volume risks high quality material being lost in a flood of resources.
We've conducted extensive research and the vast majority of you agree that we should stop rewarding authors simply for having lots of resources available on Tes - it poses a long term risk to both the hard-won reputation of the site and your prestige as authors.
So continuing as usual is not an option. We have to change.
Incentivising quality, not quantity  
It is clear that our teacher audience want it to be easier to find quality resources, and we need to deliver this for the long term success of the platform and your shops. As we first put forward for discussion in the spring, we'll be switching to a royalty tier system based on total sales, which is a far better indicator of quality than quantity is. It will also focus our attention on helping you to raise your total sales.
A tier structure that rewards sales rather than uploads
From 1 December 2018, we'll be switching from our current four tier system to just three. These tiers, and their royalty rates after VAT, will be: Bronze (60%); Silver (70%) and Gold (80%).
Your tier will be set at the start of each month, and will be based on the total value of your resources sold over the previous 12 months, to account for seasonality. To achieve Silver, you'll need annual sales of more than £1,000; for Gold you'll need annual sales of more than £6,000.
You'll be able to check your current tier on your author dashboard, and the tier you're expected to be in next month (based on a rolling figure of your sales for the past year). It's worth noting that it's the total sales value that is being measured, not your royalty, so your running total for the year may be bigger than you think.
We're also removing the transaction fee for all authors on items over £3 - and lowering it by a third for those priced below, from 30p to 20p (or 30c down to 20c for US authors).
We've already set the minimum price for resources at £1. This will provide you with more flexibility to control your pricing and offer value for money for smaller items without undervaluing your work.
The combination of the changes to the royalty tiers and transaction fees means that the majority of authors who made a sale on Tes in the last year will actually be better off under the new system.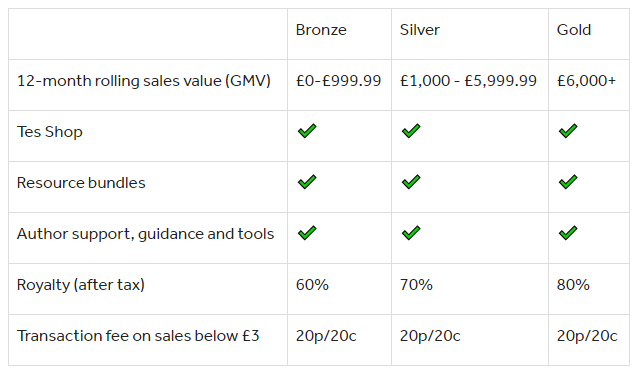 Other measures to incentivise quality
Replacing a problematic incentive isn't the only thing we're doing to improve quality. We've already launched our clearer Author Code, and introduced our tougher takedown policies. The next stage will be to launch our new systems to get more reviews from trusted teachers on your material. We are also working with academics on better ways to judge the quality of teaching resources, and will be sharing our findings with you.
Further initiatives to support you
As we're basing royalty tiers around sales, we're going  to do even more to help you sell to a wider audience. Some of the new initiatives already here, or on their way shortly, are:
But the biggest new initiative we've begun work on is school purchases. Two years ago Tes launched its portal for schools. The majority of secondary schools in the UK, plus thousands of primary schools, and around a thousand international schools are already signed up, many checking into it daily. The next phase is helping schools buy author-made resources with school licences. This will be a huge opportunity for you to access the buying power of entire schools, rather than individual teachers paying from their own pocket.
Thank you
That's all for now. We hope you can see the exciting future of Tes Resources and how the new approach and initiatives will help us to continue to grow and thrive together.
Thank you for all of your comments, feedback and input over the last few months. If you have any further questions please read our tier change Q&A, join the conversation in our Community forum, or contact us at authors@tes.com.