When teachers browse resources on Tes, we want to ensure the best quality materials are the ones they see first. For this reason we launched a consultation on quality  at the start of January with our users and authors.
We've now had more than a thousand responses to our polls, online forum chats and webinars - which, encouragingly, show that our users want to see these changes too.
There are plenty of incredibly high-quality lesson materials on Tes, which is why millions of teachers visit each month. We just want to get better at ensuring that it's those resources that rise to the top, and that we're stricter with the tiny minority of uploaders whose work is less helpful to teachers.
So,  we're introducing:
A new code of practice for authors
Tougher takedown procedures
Changes to our royalty tiers
Improvements to the resources search and browse experience
A review of our resource feedback systems

These changes are just the beginning. Some will come into effect immediately, while others will be added later this year or developed through further experimentation.
A new code of practice for authors
We want to be clearer with authors about what 'good' looks like. So we've put together an author code which we believe sets the right standards for behaviour on Tes and is in the spirit of the professional community we are.
Tes Resources is a community website for the teaching profession. As resource authors and users of Tes, we trust you will:
Support other educators by sharing resources you believe are of a high standard and will assist their work with students.
Only upload original resources you have created yourself, featuring material that's either your own or correctly licensed.
Help other teachers to find relevant materials by tagging resources accurately and truthfully, whether to subjects, age groups or curriculums.
Help protect the quality of material on Tes by reporting any resources you see containing material you believe is inappropriate, offensive, plagiarised or infringes copyright.
Support a culture of honest feedback by leaving meaningful reviews, and by soliciting only genuine purchases, downloads and reviews from Tes members.
Interact with other authors respectfully in the spirit of a supportive community of professional educators.

If you see authors acting in a way that infringes the Tes author code, please contact help@tes.com.  As a community site we cannot take responsibility for content uploaded but we can act swiftly and decisively when content is reported to us. Please familiarise yourself with our updated content standards and guidance on licensing along with our terms.
Tougher takedown procedures
Tes has always taken down material when it has been reported for copyright infringement or plagiarism, and we've banned many of the uploaders responsible. But sometimes users who've reported such infringements have felt we were unresponsive, because they never learned the outcome.
We're adding more streamlined processes for our customer services team to triage such reports.
Flagrant breaches will result in immediate bans on authors. For more innocent cases, we have a one-strike rule in place where users will be warned to alter their material or face a ban.
In cases where we've found paid resources that infringe copyright, we reserve the right to refund purchasers and to debit the uploader's account to make it very clear that plagiarism does not pay.
Changes to our royalty rates
We currently reward those authors who sell resources with better royalty rates, depending on how many resources they upload. But that incentivises quantity, not quality.
To move to a system that rewards quality first, we want to base our future royalty rates on the amount of sales an author makes. It may be crude as a proxy for quality, but it is a better sign that an authors' work is appreciated than the simple number they have uploaded.
Royalty rates will be applied based on the amount of money generated by your resource sales over a 12 month period. We propose to calculate this on a rolling 12 month basis, recalculated at the start of each month.
We also plan to open up our tools so authors on any tier level will soon be able to open their shop, create bundles and run sales, enabling them to promote and merchandise their best materials.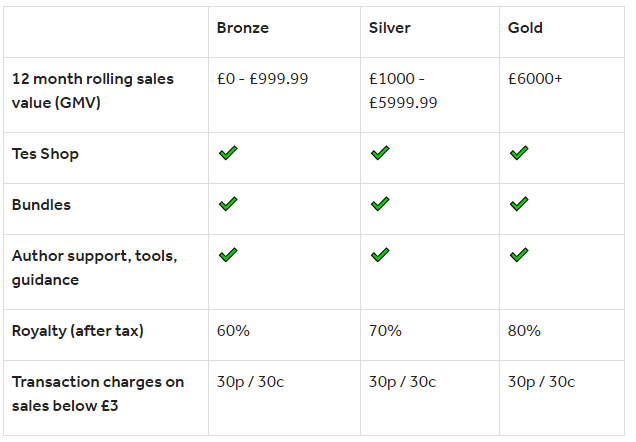 The royalty changes will not take effect until October 2018 at the earliest. This is to give authors time to fully understand the changes and have the opportunity to work with them. It also means that they take effect after the biggest peak of the year - Back to School 2018 - giving all current authors the opportunity to make their best sales at their current rates.
Rates will be calculated on the value of items sold over the previous 12 months at the author-published price, calculated before the impact of Tes-funded discounts or Tes transaction fees (e.g. the sales value that you control). We'll also include the full value of sales in the event of Tes-funded discounts, so the calculated sale value will always be calculated to your benefit.
We will also reduce the price minimum on paid resources to 60p (or equivalent in other currencies), giving authors more flexibility to control their pricing and offer value for money for their smaller items.
We know that changes to royalty levels alone won't drive quality on Tes, but we think moving from a quantity incentive to a popularity one, will ultimately benefit the community.
We appreciate that change is difficult but we'll do everything we can to provide guidance and support all the way. We believe that alongside these other quality initiatives, the best content will surface and be rewarded adequately.
Improvements to our resources search and browse experience
Helping teachers find the right resource for them, and ensuring that they see the highest quality resources, is at the heart of the Tes Resources platform. We're exploring ways to improve this experience for teachers, to make it easier for them to find exactly what they're looking for, as quickly as possible, and will be experimenting with lots of changes in this area.
Review of our resource feedback system
We recognise that the current mechanism for providing feedback on resources - the five star rating system - doesn't provide sufficient nuance, and isn't the most relevant system for teaching resources. We'll be exploring how we can improve this system, to help us collect more feedback from teachers, which will in turn help us to better recommend resources to other teachers. As part of these explorations we'll be also looking at how we can encourage more teachers to provide feedback, as well as how we can make it easier for them to do so.
For more information and to take part in the discussion, visit the Author Forum here.
Aimee Fagan is Tes's head of author success, Charlie Patterson is a Tes product manager, and Michael Shaw is director of Tes Resources.