Preschool Italian resources: sport, health and fitness
Keeping your class engaged with fun and unique teaching resources is vital in helping them reach their potential. With Tes Resources you'll never be short of teaching ideas. We have a range of tried and tested materials created by teachers for teachers, from kindergarten through to high school.

Breathe new life into your lesson plans with our primary and secondary school classroom resources. Whether you're looking for fun maths worksheets or brand new guided reading activities, we have thousands of free and premium resources for you to download. From preschool to primary you'll find phonics worksheets and classroom games. From Year 11 through to senior secondary we have everything from Japanese lessons to algebra activities, as well as revision guides for tests and exams.
Read more
Sport, health and fitness
20 Lumaca Snail games on Italian vocabulary. Value of £80.
This is a double page worksheet from a new Italian KS2/3 resource. There are also powerpoints for all 11 units. Topics include: sports you play, what sports you like/don't like/prefer; verb giocare; range of connectives
A new Italian KS2/3 resource. This has 11 units for beginners Italian. There is a workbook to go with these resources. A new Italian KS2/3 resource. It includes powerpoints. There is a workbook to go with these resources. At the moment it covers units 1.1-1.10. This will be updated as soon as the full resource is finished. Includes: lesson objectives, key vocabulary, grammar and exercises. Topics include: greetings, age, birthdays, in my bag, school, sports and hobbies, pets, family members, in town, house and home.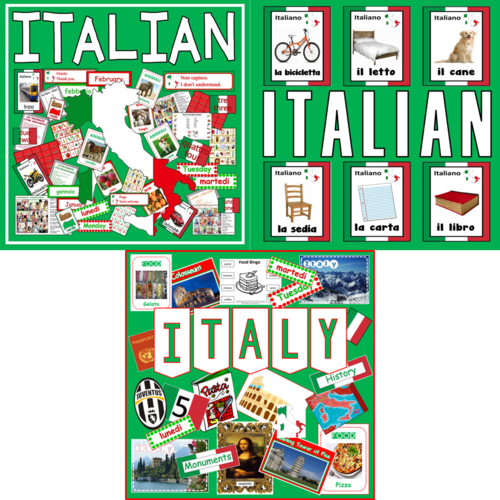 3 GREATS SETS OF RESOURCES BE SURE TO SEE THE DESCRIPTIONS AND PICTURE PREVIEWS FOR ALL PACKS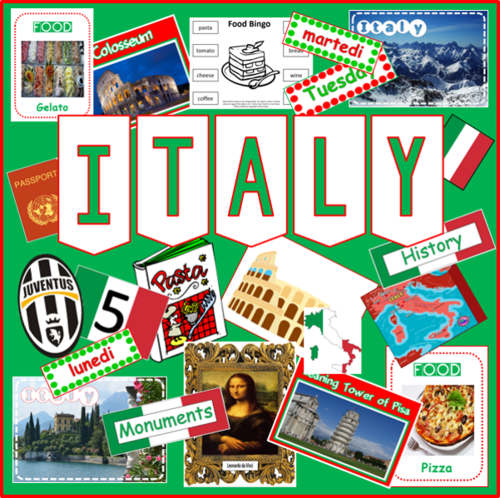 RESOURCES INCLUDE: Country Information Presentation – covering all the key facts about the country – such as history, geography, language, landmarks, tourism etc, Language resources – words and phrases, flashcards of Italian things, key word cards, display resources for notice boards, photo packs, large monument for display, inventions posters, flag and activities, writing / drawing / designing / craft activities, colouring pages, food photo flashcards, recipes, maps of the world /continent /country, map task, card matching game, quiz, number flashcards, tour guide badges, reward chart, word search etc
These great set of language flashcards for you to print as many times as you want. Each flashcard is A5 size, but your can print them as pocket size or photocopy them larger. They would make a great display, can be used for language activities or provide support for a multicultural classroom. Use at home with children new to the English language by looking at the picture and practise reading the word. Print the cards and match them together reading the Italian and English word each time. Each card has a colourful image that relates to the word, and the flag of the country and a map of the country is denoted on each card. Card topics include: Room in the house – bathroom, bedroom etc Items in each room such as bed, chair, table, TV etc Rooms in school – library, classroom, dining room etc Items found at school – pencil, pen, football etc Places to go – cinema, swimming, etc Common animals – cat, dog, etc Transport – bus, car, bike, plane, etc Emergency – police, fire, ambulance, doctor, hospital, etc Body parts – head, face, eye, leg, back etc Outside – tree, grass, flowers etc Colours – red, green, blue, etc Numbers – one to ten People – man, woman, children, baby etc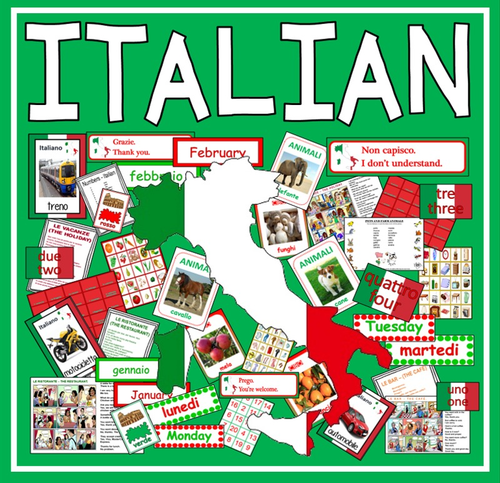 Resources included are as follows: •PDF or PPT files for you to print. You could also use them on the IWB. •Animal flashcards •Food flashcards •Number flashcards •Colour flashcards •Transport flashcards •Common phrases flashcards •Months of the year flashcards •Days of the week flashcards •Extra large flag for display •Extra large lettering to head wall display •Food bingo game – with boards and cards •Clothes bingo game – with boards and cards •Furniture bingo game – with boards and cards •Numbers bingo game – with boards and cards •Italian food worksheets •Italian animals worksheets •Café conversation task •Holiday conversation task •Library conversation task •Restaurant conversation task •Red and green display border to edge wall display