Primary Italian resources: news and current affairs
Keeping your class engaged with fun and unique teaching resources is vital in helping them reach their potential. With Tes Resources you'll never be short of teaching ideas. We have a range of tried and tested materials created by teachers for teachers, from kindergarten through to high school.

Breathe new life into your lesson plans with our primary and secondary school classroom resources. Whether you're looking for fun maths worksheets or brand new guided reading activities, we have thousands of free and premium resources for you to download. From preschool to primary you'll find phonics worksheets and classroom games. From Year 11 through to senior secondary we have everything from Japanese lessons to algebra activities, as well as revision guides for tests and exams.
Read more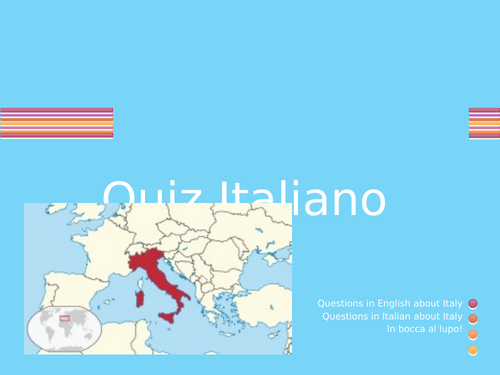 This is a quiz with many rounds and varieties of questions including: *True or False - Celebrities born in Italy *Pet translations *English TV in Italy *Italian Football Teams plus many other questions about the history, culture, geography and other contextual, interesting facts about Italian. The quiz takes on bell model, starting with easier questions moving on to more challenging questions before finishing with easier ones again so that all students are able to participate and maintain interest until the end. Many questions have additional information attached to explain and provide further reference points. Some questions are asked in English with English answers, some are asked in Italian with English answers and some asked in Italian with Italian answers. This would be ideal as an introduction to Italian, as a starter for a lesson or for a fun lesson at the end of term. Any and all feedback, positive or developmental is greatly appreciated.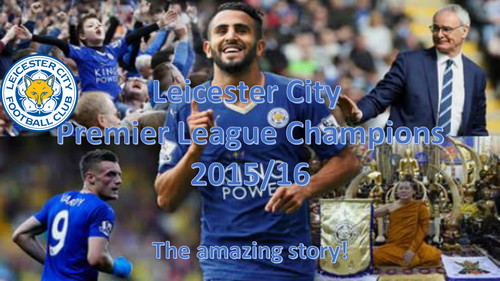 A presentation on Leicester City and their amazing Premier League story of 2015/16 season! Ideal for form time presentations or assemblies. For more great resources or lessons see here: https://www.tes.com/teaching-resources/shop/EngageinEnglish (All images are credited within the Power Point. Most of the images are taken from guardian.co.uk)