Whole-school Arabic resources: whole-school literacy
Keeping your class engaged with fun and unique teaching resources is vital in helping them reach their potential. With Tes Resources you'll never be short of teaching ideas. We have a range of tried and tested materials created by teachers for teachers, from kindergarten through to high school.

Breathe new life into your lesson plans with our primary and secondary school classroom resources. Whether you're looking for fun maths worksheets or brand new guided reading activities, we have thousands of free and premium resources for you to download. From preschool to primary you'll find phonics worksheets and classroom games. From Year 11 through to senior secondary we have everything from Japanese lessons to algebra activities, as well as revision guides for tests and exams.
Read more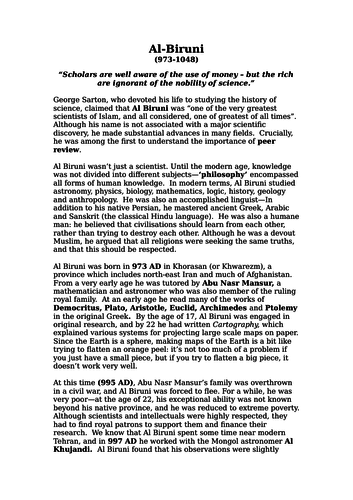 This is a sample chapter from the forthcoming book, 'Standing on the Shoulders of Giants' by Tom Burkard and Colin McKenzie. Al Biruni is recognised as one of the greatest scientists of Islam. He was one of the first to recognise the importance of peer review, and his studies straddled the fields of philosophy, maths, astronomy and Earth science. It is aimed at higher ability students, and is an excellent resource for revision, homework or 'flipped learning'. Further chapters are also being made available for review and evaluation. This chapter tells the story of Al Biruni and details his work on: The Decimal System Gravity Astronomy Geology Density Mineral Hardness Heat and Light Each chapter of Standing on the Shoulders of Giants gives a brief biography of a great physicist and is linked to an explanation of their discoveries that is relevant to the school curriculum. I have used this chapter for revision, homework and as a 'flipped learning' activity, where students are encouraged to independently learn the basics of a topic before it is taught in class. Our chapters are also very effective for use in 'quiet reading' sessions. The literacy level here is 'higher' and we have found this content to be very engaging as extension work for higher ability students.