12Uploads
6k+Views
4k+Downloads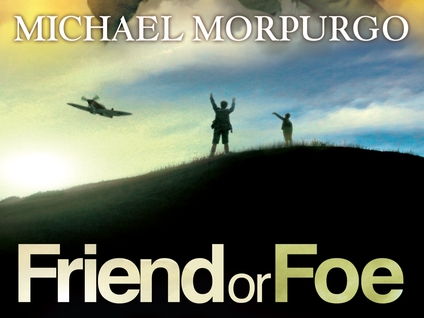 If you're studying World War in class, this is an ideal accompaniment. Teach 4 weeks of Friend of Foe with these 20 Powerpoints each giving session by session details on what you need to cover and what the children will need to do as well. This is perfect for NQTs or simply teachers who haven't the time to prepare their own set of daily resources. I promise that this is an absolute time-saver. Brought to you by www.keystage2literacy.co.uk
The SPaG Coverage Grid- a quick and easy to use Powerpoint that accesses 35 of the key Spelling, Punctuation and Grammar areas of the new curriculum. Each slide offers the core teaching points, some examples, a song or introductory video as well as several test-style questions. This is a 70-page no nonsense guide to getting your pupils through the drama of SPaG. It will hopefully cut down on your workload and be an essential toolkit in the run up to the end of year National Tests. Also at the SPaG Zone, check out ten ready-made SPaG Tests for you to practise with your classes. For more information, please go to: http://www.keystage2literacy.co.uk/spag-coverage-grid.html
This is a five week homework guide/early morning workbook that pupils in Year 5 or 6 could use to supplement their revision weeks before the big tests in May. Each week has five different activities. Each week, the same five activities are repeated: Day 1 (Monday): arithmetic questions Day 2 (Tuesday): reasoning questions Day 3 (Wednesday): quick questions from White Rose Day 4 (Thursday): quick question board Day 5 (Friday): worded problems
This is the first in a series of Grammar and Punctuation 10-minute Tests. These have been designed to cover as many areas of the SPaG curriculum as possible. Aimed at Year 5 and Year 6 pupils for instant revision purposes. These could form the basis of Early Morning Activities, Homework or even the start of a one-off SPaG lesson. There are 10 tests in the set as well as a self-assessment grid to highlight and target the areas which need more work. The children can total up their efforts at the end of the 10 test unit and see how well they are getting on with the score sheet. Set 2 will be available shortly.
Transport Through The Ages (2 of 14) Session 2 PowerPoint to Support Lesson - Map/Atlas Work Resources: 10 'coins' of inventions or events in transport history A blank map of the world for the 'coins' to be stuck onto A list of transport inventions and their dates/origins A template for a Fact File Main Task 1: Match the Invention/Event to the location on the map Main Task 2: Complete a Fact File about an important invention or event in transport history Session 2 looks at some of the most important inventions in our history as well as a couple of events such as the moon landing. The aim is for children to be able to place the inventions on a labelled map. All resource packs include PowerPoints to support the teaching of the lesson as well as resources to support the learning. Please look out for the other 13 sessions in the pack, or alternatively purchase the whole package of 14 sessions for £9.99 (coming December 2021)
Transport Through The Ages (1 of 14) Session 1 PowerPoint to Support Lesson Differentiated Resources: KWL Grid Thought Bubbles Ideas for a Poster Main Task: Art Work inspired by Andy Warhol Session 1 begins by looking at what the children already know and follows up with a fun task that can be used for a display in your classroom.
The following resources accompany the 'Transport Through The Ages' unit of work. The unit of work, integrating National Curriculum objectives for Key Stage 2, introduces pupils to a world of transport. The first six lessons lay the foundation for the remaining eight lessons, which focus on Formula One and building an enterprise. For more information, check out the individual resources in the Bundle Pack. In this pack: Contents of the Project Blank Contents Page for Pupils Transport Books on Epic Display Board Lettering 'Transport Through The Ages.' Display Board Questions
Transport Through The Ages (4 of 14) Session 4 PowerPoint to Support Lesson - Invention of the Wheel Resources: Types of Wheel Starter Task Invention of the Wheel Introduction to Main Task Mesopotamia and the Wheel - research QR codes Mesopotamia Monthly - newspaper template Main Task 1: Children to work independently or in small groups to work out where the 12 different wheels are from Main Task 2: Children to research and then write a newspaper article about the discovery/invention of the wheel in 3500BC Session 4 looks at the discovery and development of the wheel, dating back to Mesopotamia over 5500 years ago. The children will be exposed to examples of evidence proving that wheels came from this time in history. The children will be required to use evidence and research to create a newspaper written as if they were there all those years ago, and deciding what the wheel could now be for. All resource packs include PowerPoints to support the teaching of the lesson as well as resources to support the learning. Please look out for the other 13 sessions in the pack, or alternatively purchase the whole package of 14 sessions for £9.99 (coming December 2021)
Transport Through The Ages (5 of 14) Session 5 PowerPoint to Support Lesson - The Steam Engine Resources: Famous Trains and Journeys - 10 Famous Trains Pop Up Train Book Template and Trains Pop Up Train Book Instructions Cloud Outlines Main Task 1: Children to watch two videos showing the contrast between Trevithick's first ever steam engine, and the soon-to-be opened, Hyperloop! Following the videos, the class discusses how trains have changed our lives and how trains have trained through the years. Main Task 2: The main task involves building a pop up book which the train will go into. The children are asked to choose between 10 different trains and need to research it before the session. The outcome of the lesson will be a pop up book placed in the centre of the book with questions about the train around the outside, with all of the answers inside. All resource packs include PowerPoints to support the teaching of the lesson as well as resources to support the learning. Please look out for the other 13 sessions in the pack, or alternatively purchase the whole package of 14 sessions for £9.99 (coming December 2021)
Welcome to the highly anticipated set of classroom resources linked to transport and motorsport. The bundle is appropriate for delivery to Key Stage 2 pupils and runs for 14 weeks with enough resources to teach at least 90 minute sessions each week. Week 7 and 8 are bumper weeks and contain enough content for at least 3 hours of teaching and learning. This pack currently contains the first five sessions out of the 14 sessions that are coming in Autumn 2021 plus a series of FREE resources to get you started! Easily over 30+ hours of content coming your way! Please find out more details from www.thestemchallenge.com
A quick and easy way to share with your class what you need to cover and what activities they need to do. I created these slides for my colleagues and I to deliver the London Eye Mystery. This Powerpoint is fully customisable to suit your needs and those of your children. Brought to you by www.keystage2literacy.co.uk
Transport Through The Ages (3 of 14) Session 3 PowerPoint to Support Lesson - Timelines Resources: Large Timeline Images x 12 Information Card for Starter Activity Transport Timeline Cards for Sorting Timeline Cars for Cutting Out Example of how to set out Main Task: Timeline Main Task 1: Split class in half and sort the events chronologically without dates Main Task 2: Create own timeline using the cut out cars Session 3 looks at the importance of timelines. In the pack, the focus is on 12 events or inventions in transport history, 6 of which are BC dates and 6 which are AD, which helps the children to identify the differences between these two terms also. The children create their own timelines, but in a slightly more creative way than with the traditional straight line method. See the example lay out for more ideas. All resource packs include PowerPoints to support the teaching of the lesson as well as resources to support the learning. Please look out for the other 13 sessions in the pack, or alternatively purchase the whole package of 14 sessions for £9.99 (coming December 2021)