Preschool German resources: school uniform
Keeping your class engaged with fun and unique teaching resources is vital in helping them reach their potential. On Tes Resources we have a range of tried and tested materials created by teachers for teachers, from pre-K through to high school.

Breathe new life into your lesson plans with our elementary, middle school and high school classroom resources. Whether you're looking for fun math worksheets or brand new guided reading activities, we have thousands of free and premium resources for you to download. From kindergarten to elementary you'll find K-5 resources, including phonics worksheets and numeracy games. From middle school through to high school we have everything from Spanish lessons to algebra activities, as well as Common Core-aligned lessons and revision guides for tests.
Read more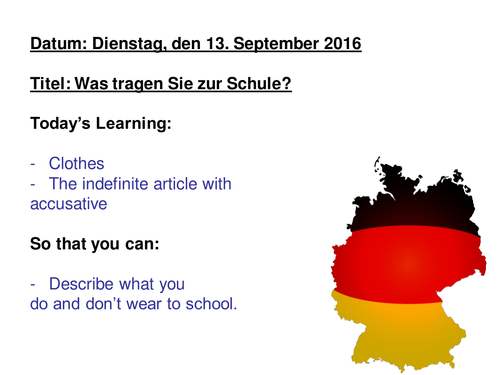 These resources teach students how to name and describe items of clothing in German and how to use the accusative case with "tragen" to describe what they wear to school.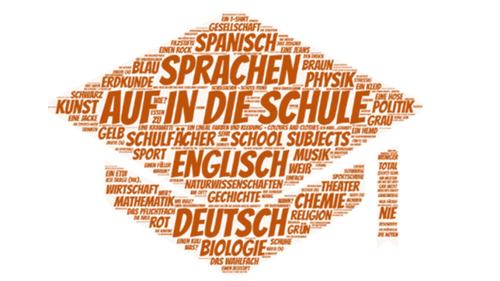 Save over 60%! A collection of fun puzzle worksheets practising school vocab from chapter 1 School in AQA GCSE Stimmt! Red book. Includes three word puzzles per topic and answers. Ideal as cover work, homework or revision work. Note: If you have uploaded an earlier version of this and can't download it anymore, please leave me a message in the community or in reviews.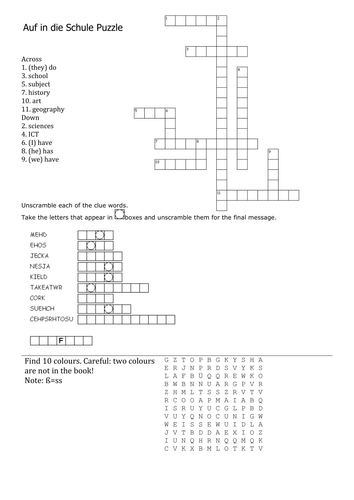 A fun starter or plenary practising school vocab from pages 6-7 in the new AQA GCSE Stimmt! book (school subjects and uniform). Includes three word puzzles and answers.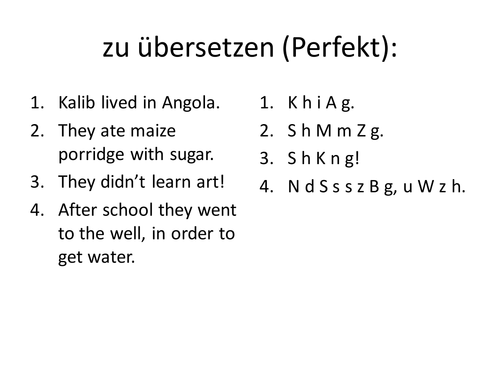 A series of lessons slotted into the topic of school for introducing and practising using the perfect and imperfect tenses in German. The poem is a fantastic activity that works like magic when you translate between the perfect and imperfect - suddenly it rhymes! (will be clear when you see it) The .ppt contains help with vocabulary, and the other .ppt is a lesson which links in with the Edexcel textbook text on Kalib/Angola.