Early years German resources: illness and injury
Keeping your class engaged with new and interesting classroom resources is vital in helping them reach their potential. With Tes Resources you'll never be short of teaching ideas. We have a range of tried and tested materials created by teachers for teachers, from early years through to A level.

Breathe new life into your lesson plans with our primary and secondary classroom resources. Whether you're looking for fun maths worksheets or brand new guided reading activities, we have thousands of free and premium resources for you to download. From early years to primary, you'll find phonics worksheets and numeracy games and all you need to revise for Sats. From secondary to post-16, we have everything from French lessons to algebra activities, as well as GCSE revision guides and more.
Read more
This set has 90 flash cards to learn and practice German body parts and illness vocabulary.
Here is an activity for all age ranges learning the different body parts. Print off the body parts cards and stick them around the room. Pupils get the skeleton that they have to label using the clues. Rewards can be given for quickest. Extension activity to find plurals in a dictionary. Enjoy!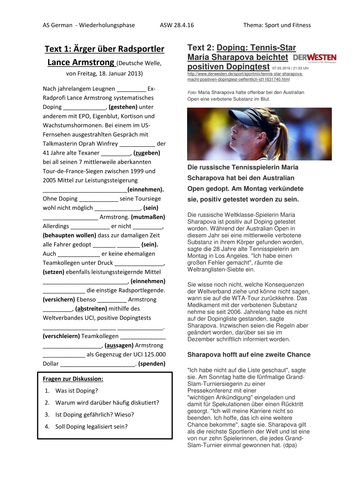 Based on Moook's recommendation of the DW audio report on Lance Armstrong's fall from grace: https://www.tes.com/teaching-resource/drugs-in-sport-lance-armstrong-6322491 Contains a vocab list, as well as gap-fill transcript, plus an additional article on Maria Sharapova.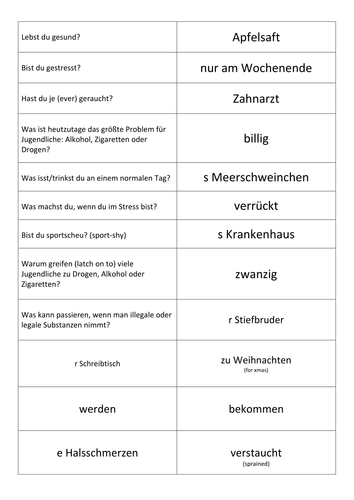 A game/activity used to revise the topic of health. Full instructions included - print cards onto paper/card and put one set in an envelope (as many sets as you need for the class to work in pairs). Similar to taboo, but in reverse. Fun for advanced students.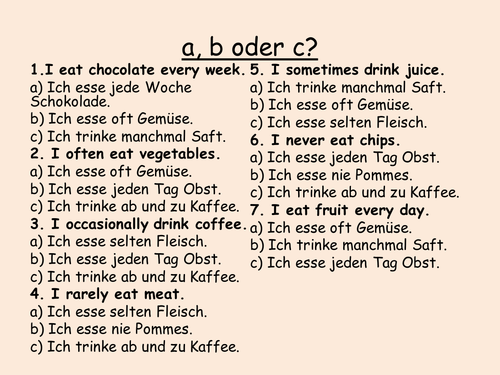 At least two lessons' worth of resources on the topic of eating - food plus time-phrases. Includes excellent worksheet on writing a sick note using modal verbs!