Whole-school Bengali resources: media and leisure
Keeping your class engaged with new and interesting classroom resources is vital in helping them reach their potential. With Tes Resources you'll never be short of teaching ideas. We have a range of tried and tested materials created by teachers for teachers, from early years through to A level.

Breathe new life into your lesson plans with our primary and secondary classroom resources. Whether you're looking for fun maths worksheets or brand new guided reading activities, we have thousands of free and premium resources for you to download. From early years to primary, you'll find phonics worksheets and numeracy games and all you need to revise for Sats. From secondary to post-16, we have everything from French lessons to algebra activities, as well as GCSE revision guides and more.
Read more
This thirty-five slide Powerpoint gives a range of clues for words containing ten different Latin roots. The slideshow contains an explanation of how Latin roots have come to be in the English language; all the answers and a final table for students to fill in to consolidate the learning. Designed to allow students to work independently or in groups, this interactive Powerpoint will inspire your students to think more deeply about the English language.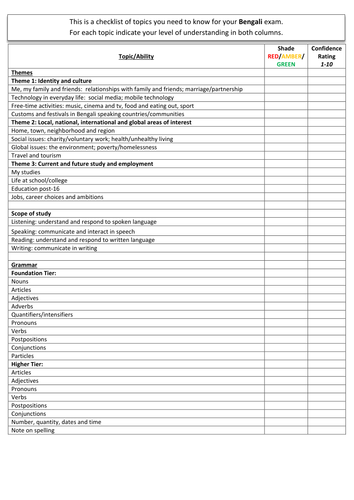 This download contains two Personal Learning Checklists (PLCs) designed for the AQA GCSE Bengali Specification. The first side is a PLC with two ways for the student to rate confidence and the second side features a key-word check as well as various DIRT tasks. This double-sided A4 worksheet is great for: -Revision lessons -AfL -Fostering teacher-student dialogue -Directed Individual Reflection Time (DIRT) -Exam preparation This is an ideal tool for your students to help them keep track of their learning, and help you monitor the classes strengths and weaknesses. It serves as a highly efficient form of self-assessment. On the reverse of the sheet are other useful measures that allow teachers to gauge a student's confidence and reflective abilities. The worksheet: -Allows the student to see clearly what they need to know for the exam. -Allows the student to communicate to their teacher how they can be best helped. -Gets the student to analyse their progress in relation to their target grade. -Encourages students to reflect in a structured manner on their necessary revision focusses. -Gets students to establish both a revision and an exam technique focus.