Whole-school Japanese resources: news and current affairs
Keeping your class engaged with new and interesting classroom resources is vital in helping them reach their potential. With Tes Resources you'll never be short of teaching ideas. We have a range of tried and tested materials created by teachers for teachers, from early years through to A level.

Breathe new life into your lesson plans with our primary and secondary classroom resources. Whether you're looking for fun maths worksheets or brand new guided reading activities, we have thousands of free and premium resources for you to download. From early years to primary, you'll find phonics worksheets and numeracy games and all you need to revise for Sats. From secondary to post-16, we have everything from French lessons to algebra activities, as well as GCSE revision guides and more.
Read more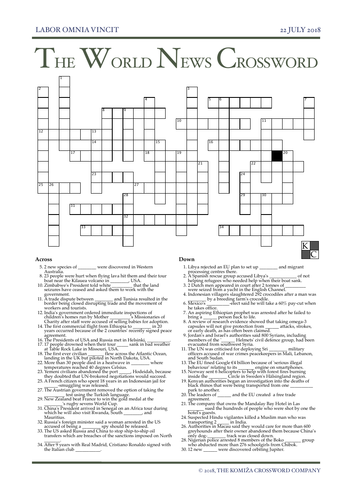 The World News Crossword - July 22nd, 2018 is a 6-page PDF document made up of 4 puzzles based on the events of last week's news. What's in this week's document? (1) A crossword based on the events of last week's news, (2) A crossword all about Japan (which signed a free trade agreement with the EU and also experienced a devastating heatwave), (3) A crossword all about Libya (which closed its border with Tunisia and also did not approve the EU proposals to set up a refugee/migrant processing centre - did you know Libya has no permanent rivers?) and (3) A crossword all about Mother Teresa, whose orphanages in India were being inspected by authorities after accusations that staff had sold babies for adoption. (This puzzle is taken from our soon-to-be-released book, 'Women who changed the world'.) **What happened in last week's news? ** The EU fined Google for being very naughty and also signed a free trade agreement with Japan making trade easier. Libya closed its border with Tunisia, making trade impossible. Tourists were hurt by falling lava in Hawaii. Others drowned when their tour boat capsized in Missouri. China's President went to Africa and the first commercial flight between Eritrea and Ethiopia occurred. Two Dutch men were arrested when they were caught on a boat with 2 tonnes of cocaine in the English Channel and French man was released from an Indonesian prison after 18 years for drug-smuggling. It turns out that Omega-3 won't keep us safe from strokes and heart attacks, Cristiano Ronaldo is moving to Italy, and New Zealand beat France in the women's rugby sevens world cup final.