Whole-school medieval resources
Keeping your class engaged with new and interesting classroom resources is vital in helping them reach their potential. With Tes Resources you'll never be short of teaching ideas. We have a range of tried and tested materials created by teachers for teachers, from early years through to A level.

Breathe new life into your lesson plans with our primary and secondary classroom resources. Whether you're looking for fun maths worksheets or brand new guided reading activities, we have thousands of free and premium resources for you to download. From early years to primary, you'll find phonics worksheets and numeracy games and all you need to revise for Sats. From secondary to post-16, we have everything from French lessons to algebra activities, as well as GCSE revision guides and more.
Read more
An essay on Popper's falsificationist approach: an explanation and assessment.
These resources - in essence will last for 4-5 one hour lessons - will introduce the concept of Natural Law and really develop St. Thomas Aquinas' development of Natural Law and how his development has had huge influence on Christian theology. This resource will use plenty of learning checks and provide ample opportunities for classroom discussions and will secure the learning and understanding of this fascinating topic for students that you teach
A complete 13 page workpack for teaching the ontological argument by Anselm and Descartes with criticism from Hume and Gaunilo. Includes links to several videos, key terms, key thinkers, quotations and an essay plan. Professionally presented, colourful, thorough and engaging. I have had very positive feedback from pupils, parents and colleagues
In this highly differentiated lesson, students will challenge themselves to work out the Ontological argument put forward by Anselm and the criticisms from Gaunilo. They will also be able to evaluate the criticism from Gaunilo. It's all ready for the NEW 2017 OCR Religious Studies A Level. The lesson has a focus on independent learning and student-led activities. Included are all of the resources, a powerpoint and a detailed lesson plan. Just add chocolate! Notes: The card sort runs over three pages and needs to be printed onto green, yellow and red card. The first page should be printed onto green, the second onto yellow and the third onto red. This means students can choose their level of challenge by the traffic light colours. Answer to the quiz: BCCABCACB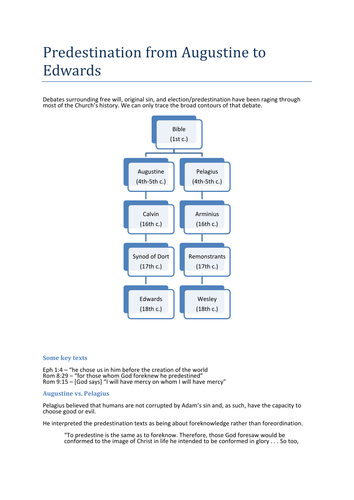 A visiting PhD student provided our dept with this (hence the excellent footnotes!) Is every human action predetermined? Where does this leave moral responsibility? 4 page handout traces history of the doctrine from Augustine, Calvin and Jonathon Edwards, and the rebuttals from Pelagius, Arminus and John Wesley.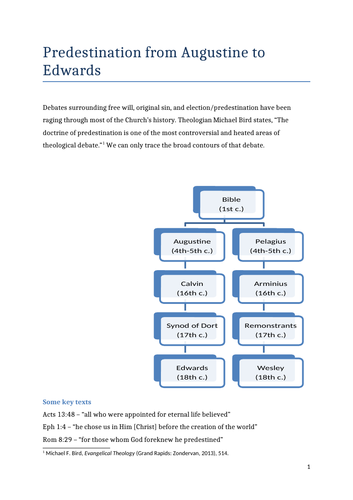 Visiting PhD student provided our dept with this! (hence the excellent footnotes). What is 'predestination'? What Biblical support is there for the doctrine? What are the implications for moral responsibility? What did Augustine, Pelagius, Calvin, Arminus, Edwards and John Wesley have to say?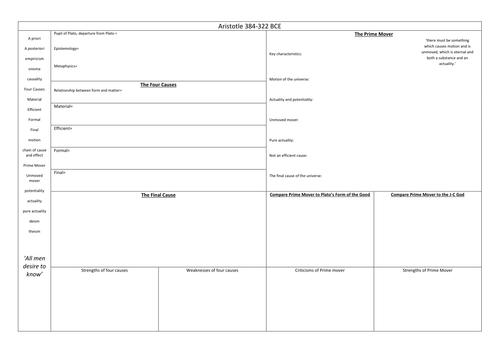 Some revision sheets to help you with each topic for the unit on Philosophy of Religion for AS Religious Studies OCR. Print them off A4 sized to test your knowledge. Or print off A3 sized and create organised posters to revise from!