Preschool Russian resources: sport, health and fitness
Keeping your class engaged with fun and unique teaching resources is vital in helping them reach their potential. With Tes Resources you'll never be short of teaching ideas. We have a range of tried and tested materials created by teachers for teachers, from kindergarten through to high school.

Breathe new life into your lesson plans with our primary and secondary school classroom resources. Whether you're looking for fun maths worksheets or brand new guided reading activities, we have thousands of free and premium resources for you to download. From preschool to primary you'll find phonics worksheets and classroom games. From Year 11 through to senior secondary we have everything from Japanese lessons to algebra activities, as well as revision guides for tests and exams.
Read more
Sport, health and fitness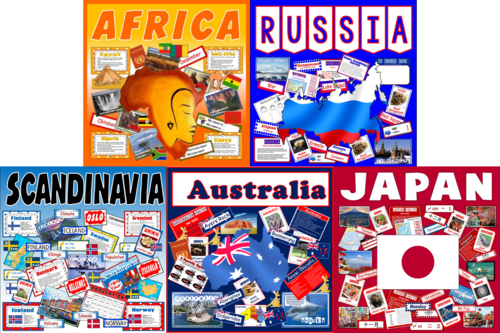 5 GREATS SETS OF RESOURCES BE SURE TO SEE THE DESCRIPTIONS AND PICTURE PREVIEWS FOR ALL PACKS
This is a card sort to help students learn the names of items at the grocers (30 words in total). This would be a useful task with younger groups or low ability groups. There are three separate files, depending on how you want to present the task. - The 'teacher copy' shows a grid with all items already matched. - The 'student version' is a random layout, print this out and give to students. They can then cut out the items and match them, or stick them into their workbooks. - The 'quick cut' is designed so that you can produce 10 packs of cards quickly and easily using a guillotine. Each page has the same card 10 times over. This allows you to remove words that may not be suitable or needed.
Includes the following resources: 1.Interactive White Board Presentation – covering all the key facts about the country – such as history, geography, weather, landmarks, sports etc. 2.A4 posters of photos of different things around the country – such as monuments and landmarks. 3.Months of the year flashcards in English and Russian with pronunciation. 4.Common phrases flashcards – common phases in Russian with pronunciation aids 5.Russian alphabet A4 poster 6.Design your own Russian doll task 7.Russian food flashcards 8.Key word cards – large cards for display – words associated with Russia 9.Number flashcards 1-10 in English, Russian and with pronunciation 10.Airport departure board for display 11.Display lettering to make a departure board for different destinations 12.Writing borders to frame written work 13.Counting 5 minute lesson starters 14.Flags drawing, colouring and designing task 15.Bingo game 16.Word association activity 17.Animal flashcards of different animals specific to China 18.100 world flags in A4 size 19.Diary to complete – for activities, sight seeing, weather, food etc 20.Colouring pages of local foods, maps, activities, sites etc 21.A4 letters to spell out country name 22.Long banner with country name on to head a display 23.Draw local lunchbox food task 24.Blank luggage tag to complete 25.Blank speech and thought bubbles to complete in role plays 26.Flashcards for days of the week in English and Russian and pronunciation aids. 27.Extra large flag for display 28.Draw your favourite things from the country task 29.Flag colouring in pages 30.Country name garland for display 31.Writing booklet cover for pupils work 32.Holiday shop task – outdoor play activity 33.Holiday words treasure hunt and balancing activity 34.Map and city naming - cut and stick activity 35.Map of the world 36.Map of country 37.Country culture knowledge quiz 38.Flashcards of numbers 1-20 on flags 39.Open and closed signs to be used in role plays 40.Passport template for children to complete 41.Reaching and stretching activity for quiz answers 42.Tour guide badges for role plays 43.Reward chart templates for children to draw their favourite local pictures on 44.Matching cards game – can be used as a matching pairs or snap game 45.Display flashcards showing numbers 1-10 in English, Russian and pronunciation aids. 46.Word search 47.Sentence writing activity 48.Colourful borders to edge a display board 49.Photos of planes from different countries – great for role plays 50.Postcard template for pupils to complete 51.Story board template