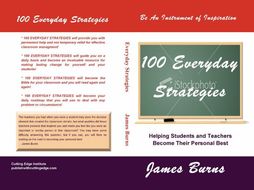 100 Everyday Strategies: Helping Students and Teachers Become Their Personal Best
This e-book provides 100 great strategies that will inspire teachers and students alike and help improve student achievement and improve classroom climate. This is a must read for any teacher.
About this resource
Info
Created: Dec 11, 2017
Updated: Dec 31, 2017
Get this resource as part of a bundle and save up to 38%
Other resources by this author
These 9 Podcasts are taken directly from Anti Bullying 101. They provide the listener with some great insights and strategies on how to deal with t...
JamesHBurns
What are the facts? The facts are clear bullying and violence are impacting our schools, classrooms, students, and teachers world wide. The behavio...
JamesHBurns
10 great tips that can be used with kids grades 3-8. Read them to the kids or let them read them themselves. These tips will help kids think, cope,...
JamesHBurns
Popular paid resources
*Updated January 2018* - with 1-hour webinar tutorial to guide new users. Designed to reduce planning time and focus on key learning phases within ...
rmcgill
Plenary Generator / Plenaries Great for AFL!! View our Starter Generator too. The perfect pair of resources to have in ANY Lesson! OR If you're fee...
TeachElite
Easter : Easter Bundle Included in this pack is a selection of our Easter activities, timers and lessons. We hope that you enjoy this resource! If ...
TeachElite
13 Resources

20% off

$12.10

$

9.68
New resources
Over 100 plenary ideas - make each lesson fun and varied with over 100 different ideas for plenaries, assessment activities and ways to sum up or e...
lordturner
Conflict Cards - Conflict Resolution Cards Printable B&W Conflict Cards This file includes 8 conflict cards. Directions: Print, cutout, hole pu...
creativeteachersabroad
Template facebook profiles for getting to know new students, can be adapted for use in subjects e.g. for historical figures or famous scientists.
rabdulmajed
Updated resources
MAY RESOURCE NOW ADDED! In this price you will get a WHOLE YEAR of Tutor Time resources (for 2018) as they are released on a monthly basis. FOR UPD...
TeachElite
Royal Wedding : Love Sermon. This resource was designed around Reverend Michael Curry's Sermon on Love during the wedding of the Duke and Duchess o...
TeachElite
A single, all-encompassing Power Point containing a wide range of cooperative and engaging learning activities for starters, main learning and plen...
AFenton92