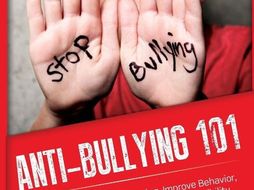 Anti Bullying 101
Bullying has become epidemic in our schools, and no matter how you slice it, this behavior has gotten out of hand. Teachers, administrators, and parents are all looking to something that will just make the problem go away. There is not one program or intervention that will stop bullying. It takes a concerted effort of teachers, administrators, parents, and students to help create a climate of respect and responsibility. Successful schools that have really made a difference use data-driven programs and remain consistent in their efforts day after day and year after year. Anti-Bullying 101 is designed to support whatever program your school is using and to provide a resource for teachers to call upon when the going gets tough. Some of the tips might surprise you. They not only address bullying but also provide ways to build positive relationships, improve the attitude of your students, and provide some life lessons that we all can learn from. So read on: Anti-Bullying 101 will prove to be the supplement that you and your school need to help stop bullying. It is very basic and very easy—use them in school, use them with your own children, and apply them in life.
About this resource
Info
Created: Nov 20, 2017
Updated: Dec 5, 2017
Other resources by this author
These 9 Podcasts are taken directly from Anti Bullying 101. They provide the listener with some great insights and strategies on how to deal with t...
JamesHBurns
What are the facts? The facts are clear bullying and violence are impacting our schools, classrooms, students, and teachers world wide. The behavio...
JamesHBurns
10 great tips that can be used with kids grades 3-8. Read them to the kids or let them read them themselves. These tips will help kids think, cope,...
JamesHBurns
Popular paid resources
*Updated January 2018* - with 1-hour webinar tutorial to guide new users. Designed to reduce planning time and focus on key learning phases within ...
rmcgill
Plenary Generator / Plenaries Great for AFL!! View our Starter Generator too. The perfect pair of resources to have in ANY Lesson! OR If you're fee...
TeachElite
TIME MANAGEMENT **Bubble Timer ** **Updated Version-Complete with popping sounds and a sound to alert pupils to stop working. ** A fun countdown ti...
TeachElite
Updated resources
MAY RESOURCE NOW ADDED! In this price you will get a WHOLE YEAR of Tutor Time resources (for 2018) as they are released on a monthly basis. FOR UPD...
TeachElite
Royal Wedding : Love Sermon. This resource was designed around Reverend Michael Curry's Sermon on Love during the wedding of the Duke and Duchess o...
TeachElite
A single, all-encompassing Power Point containing a wide range of cooperative and engaging learning activities for starters, main learning and plen...
AFenton92