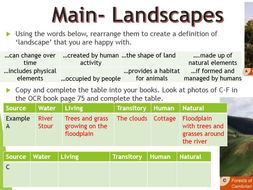 Distinctive Landforms: Upland and Lowland Revision Bundle
These resources focus on OCR B Distinctive Landform: Upland and Lowland lessons. These booster prepares the students for higher mark questions in their terminal exams. It focuses of key words and definitions, exam questions with MARK SCHEMES, MODEL ANSWERS and SUCCESS CRITERIA. It includes innovative starter and plenary activities and the use of gamification through Kahoot. It uses strategies developed within my department such as CUBE, So What, PEEL and BUG.
With 25% off have a look at the front page of the lesson below and the attached resources! It includes my gain time lessons with completed ICT students.