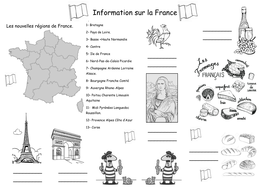 Expo 3 module 5 introduction. Internet research activity on France for lower sets.
I created this file for my lower set Year 9 class. It works well as an introduction for Expo 3 vert module 5. The question sheet is to be used in a computer room. Students look for the information independently on the net, they can write their answers directly on the worksheet or in their books if you want to save worksheet for class work. For the map, students worked in small teams. Each team sent one student at a time to find the answers on a map I had placed outside the classroom. They wrote in the numbers corresponding to the regions on their map. This map represent the most likely change to France regions that should take place in 2017. LEAVE FEEDBACK PLEASE.
Read more
Report a problem
Creative Commons "Sharealike"