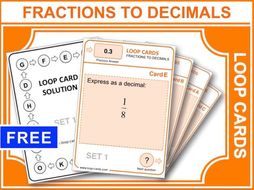 Fractions To Decimals (Loop Cards)
This download contains four sets of cards. Students choose a set and sort them into order by answering the questions. Then they try to do it faster using a different set, which has a different sort order.
After downloading these, click --> https://tes.com/.../loop-cards for Loop Cards on other topics.
--
The cards can either be used by individuals, pairs or small groups. My favourite use is for two students to have different versions of the cards and race each other. They then check their answers, shuffle, swap packs and race again (quickest overall time wins!)
Solutions and instructions are included.

Cut out card size is approx. 65 x 90 mm.
About this resource
Info
Created: Oct 25, 2017
Updated: May 16, 2018
Other resources by this author
Revision for GCSE. This carefully selected compilation of revision questions has fully-worked solutions designed for students to go through at home...
Maths4Everyone
My students have always loved these summary booklets. This series of booklets, which I am starting to upload, have definitely had a massive impact ...
Maths4Everyone
This carefully selected compilation of exam questions has fully-worked solutions designed for students to go through at home, saving valuable time ...
Maths4Everyone
Popular paid resources
This pack of resources covers Year 2 place value for the first week of the autumn term. The resources support a mastery approach to teaching mathem...
RustyMaths
Hello again. Here is my first week of planning and resources to go with the White Rose Maths scheme of learning for Year 1, Summer Block 1,Multipli...
tg11
Flip- chart moves through stages of multiplication as repeated addition and then an array. Can be made more practical (fun) by having a collection ...
jreadshaw
New resources
A PowerPoint giving information about the 2018 Winter Olympics, South Korea and the events involved etc. Resource also includes a lesson plan and K...
Jemmab100
This is pack 1 of 3 on Year 1 place value for the spring term and covers the small steps: - Numbers to 50 - Tens and Ones - Represent Numbers to 50...
MKConnolly
A simple number assessment grid so you can highlight whether a pupil can recognise a numeral. Simply type or write the pupil's name in the left han...
teacher-daniel
Updated resources
Secret Code Maths A fun secret code where pupils calculate what each letter is worth and then decode instructions to draw 2D shapes. Answers includ...
Elsie99
Proportion Ratio Recipe for Scones - Metric A proportion worksheet based on a recipe for scones. Units are metric. All answers are included. These ...
Elsie99
Ratio Proportion Capacity Bundle All answers are included. If bought independently, these 3 resources would cost £8, but I am offering them in this...
Elsie99