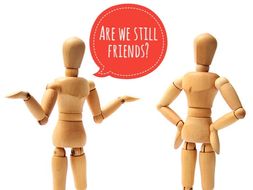 Friends Friendship PSHE and Citizenship.
Friends and friendship PSHE Resource: This 1 hour resource offers students an informative and engaging PSHE lesson that allows students to consider the benefits and issues around friendship. It includes 6 pages of activities that encourage students to think about positive and negative friendships and friendship groups. This resource has been designed to be engaging, detailed and easy to follow. This resources is editable (so easy to adapt for your classes) and is designed to last one hour.

This resource may help students develop positive relationships and encourage students to consider their current relationships with friends. Are they influenced by their friends? Do they have positive relationships? Can they improve their friendships?<
About this resource
Info
Created: Feb 7, 2017
Updated: May 22, 2018
Get this resource as part of a bundle and save up to 49%
Other resources by this author
A 21 page, fully editable Art Department staff handbook. Be OFSTED ready with this thorough resource. Provided as a Word document so that it can be...
StartEducation
A fun summer themed quiz with visuals for KS2 students. 10 questions with pictures to test knowledge of summer general knowledge. Each question is ...
StartEducation
Fun activities for the end of another busy year! Colouring, a word search, outdoor art activity, summer images for inspiration and much more.
StartEducation
Popular paid resources
PLEASE SEE MY NEW CHRISTMAS END OF TERM QUIZ 2017 :- https://www.tes.com/teaching-resource/christmas-quiz-2017-end-of-term-year-2017-11790248 End o...
AliChishti
Self Esteem / Mental Health PSHE or Tutor Time Resources. 1 hour PP, worksheets, clips, well differentiated, KS3/ KS4. These resources have been de...
EC_Resources
Being resilient lesson. PSHE resourcess, 1 hour PowerPoint, worksheets, clips, well differentiated, KS3/ KS4. These resources have been designed to...
EC_Resources
Updated resources
A Complete ENGLISH/ART lesson, which includes a detailed PowerPoint and all resources, including example poems. NEW for 2018 The lesson is designed...
Raphella
Your friends will LOVE it. It is easy to host. The party theme is flexible. And, it is better than having a garage sale. What are we talking about?...
PattyAnnsPetProject
READ UP ON ESTRANGEMENT! It has become one of the fastest growing dysfunctional social epidemics! Besides the $avings on this 4-pack, these 4 books...
PattyAnnsPetProject