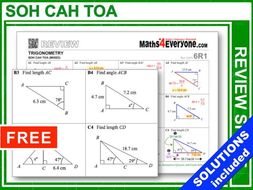 GCSE Revision (Trigonometry)
GCSE revision questions covering Trigonometry in Right-angled Triangles.


Click 👉 www.tes.com/.../revision… for similar-style GCSE revision sheets on 40 other topics.--


Note that these GCSE revision questions cover the full range of skills tested in GCSE and IGCSE for this topic and there are some trickier compound triangle questions at the end. Detailed solutions are also included.





This GCSE revision sheet is suitable for use in class or as a homework. It is also very useful for one-to-one tuition and interventions.





👍If you like this resource, then please rate it and/or leave a comment💬.


If the rate-resource button on this page does not work, then go to your ratings page by clicking here 👉 www.tes.com/.../rate-resources…
Other resources by this author
My students have always loved these summary booklets. This series of booklets, which I am starting to upload, have definitely had a massive impact ...
Maths4Everyone
GCSE revision questions (covering the sine and cosine rule) with fully-worked solutions designed for students to go through at home, saving a lot o...
Maths4Everyone
This carefully selected compilation of exam questions has fully-worked solutions designed for students to go through at home. This can save a lot o...
Maths4Everyone
Popular paid resources
A self-contained game to be played in pairs. Use to revise reading coordinates on a grid. Best played once coordinates have already been introduced...
Miss-Becky
There are about 17 (practical and fun) lesson activities, tasks or worksheets to cover the following 2014 objectives: Recognise angles as a propert...
jreadshaw
Differentiated worksheets for children to complete. Each worksheet contains photographs of shapes that the children must construct then answer ques...
juliannebritton
New resources
GCSE Mathematics 9-1 Higher tier. Includes SMART Notebook lesson and two accompanying worksheets with answers. Lesson outcomes covered: 1. To be ab...
Bluesky62
Inspired by aap03102 and his excellent relays https://www.tes.com/teaching-resource/maths-relay-races-problem-solving-puzzles-6064073 I created thi...
whistleandsums
Here is another set of transformation pictures that will create a lovely Christmas scene. There is a reindeer and Christmas tree which only require...
dave789
Updated resources
Year 4 geometry unit, containing: Lesson 1 - Symmetry Lesson 2 - 2D shapes Lesson 3 - 3D shapes Lesson 4 - Angles Lesson 5 - Assessment Resources f...
Frpend
GCSE Revision. This pack includes two 20 question diagnostic tests covering 20 different topics at GCSE 9-1 Foundation Level. The 2 tests have very...
Elsie99
This resource contains two sets of arithmetic and reasoning Year 2 SATs style papers with answers. The papers are based on past questions and have ...
blossomingminds