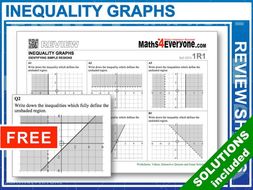 Inequality Graphs: Identifying Regions (GCSE Revision)
These two worksheets help students to revise Inequality Graphs. These sheets require students to identify the region within inequality graphs that have already been drawn. Both simple and complex regions are covered. I have used these sheets very successfully to teach and to revise this topic.
Click --> https://tes.com/.../Revision to see the list of GCSE Revision Sheets on other topics.
---
These sheets are great to use in class or as a homework. They are also excellent for one-to-one tuition and for interventions.
Solutions are included.
About this resource
Info
Created: Jul 29, 2017
Updated: May 23, 2018
Other resources by this author
Revision for GCSE. This carefully selected compilation of revision questions has fully-worked solutions designed for students to go through at home...
Maths4Everyone
My students have always loved these summary booklets. This series of booklets, which I am starting to upload, have definitely had a massive impact ...
Maths4Everyone
This carefully selected compilation of exam questions has fully-worked solutions designed for students to go through at home, saving valuable time ...
Maths4Everyone
Popular paid resources
A self-contained game to be played in pairs. Use to revise reading coordinates on a grid. Best played once coordinates have already been introduced...
Miss-Becky
Recommended by TES Panel. An investigation which allows the learners to find the rules for transformations plus some example questions. PLEASE REVI...
kmbheck
2018 VERSION NOW AVAILABLE HERE! (copy and paste link) https://www.tes.com/teaching-resource/new-2018-ks2-sats-revision-ultimate-3-in-1-maths-organ...
ambowers2
Updated resources
Seven worksheets on simplifying expressions with indices. A practice on laws of indices, negative and fractional indices. Good for GCSE/IGCSE stude...
math_w
This resource has been designed for week 12 of the summer term to consolidate the work undertaken in the White Rose Maths Scheme, small steps Year ...
Krazikas
This activity requires students to rearrange various equations into the form y = mx + c and then deduce the gradient and the intercept. Like the lo...
Maths4Everyone