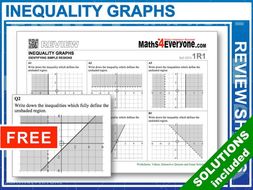 Inequality Graphs: Identifying Regions (GCSE Topic Review)
These two worksheets help students to revise Inequality Graphs. These sheets require students to identify the region within inequality graphs that have already been drawn. Both simple and complex regions are covered. I have used these sheets very successfully to teach and to revise this topic.

Click --> https://tes.com/.../Revision to see the list of GCSE Revision Sheets on other topics.

---

These sheets are great to use in class or as a homework. They are also excellent for one-to-one tuition and for interventions.

Solutions are included.
Read more