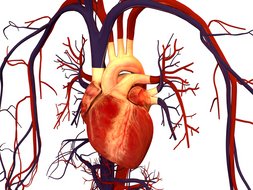 Intro into Heart and Vessel Types Google Expedition Lesson Plan #GoogleExpeditions
An introduction to the heart and circulatory system:
SWBAT:
1. List the functions of the heart
2. Describe the three different types of blood vessels
3. Identify the Pulmonary Artery, Aorta Artery and Coronary Arteries and explain how they are similar and different.
4. Define Pacemaker
5. Describe pulmonary circulation
#GoogleExpeditions
About this resource
Info
Created: Feb 11, 2017
Updated: Feb 22, 2018
Categories & Grades
Other resources by this author
This is an overview of the digestive system and how our nutrients are digested! SWBAT: 1. List the different nutrients 2. Identify organs in the di...
hbernasconi
An intro into the nervous system for 9th grade Biology. Objectives: SWBAT: 1. List the different sections of the brain and describe their functions...
hbernasconi
An introduction to the heart and circulatory system: SWBAT: 1. List the functions of the heart 2. Describe the three different types of blood vesse...
hbernasconi
Popular paid resources
This is for any GCSE (or exam) subject. This download includes a generic (multi-subject) A3 double-sided DIRT worksheet and PowerPoint instructiona...
godwin86
Revision Mindmaps for Edexcel Combined Science Biology Paper 1 and 2 . Mind maps giving an overview of each Biology topic on Paper 1 Key Concepts i...
nikkikent
New resources
A pub quiz style resource to use with KS3 and 4 on science, toys, film and famous scientists.
ilse hermie
modification on some of the other powerpoints and includes answers to tasks to aid in self assessment.
jadeon
Geared mostly towards the Edexcel Biology B A-level syllabus and questions refer to the Pearson A-level Biology B text book.
Pyr8steve
Updated resources
These are question cards on the human body and include questions on organs, organ systems, and health. These are made to go with the Science Revisi...
MissKCat
These are question cards on smoking, alcohol and drugs and include questions on the substances in cigarettes, short and long term effects of drugs,...
MissKCat
This lesson has been planned for a low-middle attaining GCSE group, can be easily differentiated up for high attaining groups. The Malaria life cyc...
db1994