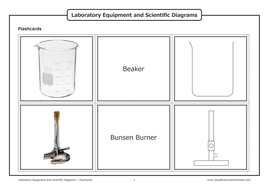 Laboratory Equipment and Scientific Diagrams [Flashcards]
Topic: Scientific Laboratory Equipment and Drawing Scientific Diagrams (Junior Chemistry).

Set of flashcards containing photos, scientific drawings and names of common laboratory equipment.

These flashcards are designed to be cut out and laminated. They can be folded over to make double-sided revision cards (photo/name, diagram/name or photo/diagram) or kept single-sided to be used in a 'match' card game.

Useful as a whole-class or differentiated activity.

Also includes a Unit Outline for the topic.

Designed for the Australian National Curriculum: Year 7 Science

However, it would be useful for other junior science curriculums as well.

A full preview of this resource is available at:

www.goodscienceworksheets.com/laboratory-equipment-and-scientific-diagrams-flashcards.shtml

Also available as part of various Introduction to Science Bundles:

www.goodscienceworksheets.com/PDFs/7au-intro-to-science-bundles.pdf
About this resource
Info
Created: Jan 25, 2017
Updated: Feb 22, 2018
Get this resource as part of a bundle and save up to 40%
Other resources by this author
Activity for for intermediate high school chemistry. Ion shapes designed for cutting out and laminating. Shapes include name and symbol of each ion...
GoodScienceWorksheets
8-page worksheet for intermediate high school chemistry. Comprehensive worksheet containing a variety of questions, including extension and further...
GoodScienceWorksheets
Year 7 Science (Australian Curriculum) The Scientific Method [BUNDLE] Save 30% off individual prices Includes the following resources: * Unit Outli...
GoodScienceWorksheets
Popular paid resources
2 end of year tests each of 30 marks covering the following topics from the Cambridge Checkpoint KS3 curriculum: Plants, Living things in their Env...
morgancc
A revision power point designed to be used for the final lesson before the paper 2 exam. Briefly covers the main points of collision theory and rat...
lottie106
Worksheet consisting of 3 main tasks based on experimental data (A: Making a barchart, B: Making a straight line graph, C: Making a curved line gra...
jeroenvanos
New resources
Free, fun, easy, educational, will last a whole lesson! -Microscopic picture round - fascinating facts round - famous people round - Christmas facts
eleanor.kirby
Make chromatography troll hair by which ever method is wanted such as the one here https://www.tes.com/teaching-resource/chromatography-trolls-acti...
TRJ
The number of equations that are used in science and math courses can be overwhelming for some students. This resource is designed to remove some o...
cvb368
Updated resources
This pack contains: 1x 2018 Chemistry C2 Predicted Paper 1x 2018 Chemistry C2 Mark Scheme This paper contains predicted questions based on: Previou...
tingham2
Great revision tool to support pupils before assessments on: The Rate and Extent of Chemical Change Organic Chemistry Chemical Analysis Chemistry o...
Mister_Dawg
A 13 page booklet for A Level Chemistry Redox Equations including notes, examples and exam questions
hulahoop1000