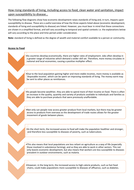 OCR A Level Geography - Disease Dilemmas - Epidemiological Triangle
Activities based on the Disease Dilemmas topic of the OCR A Level Geography specification. In particular, this handout has resources and activities based on Section 2: Is there a link between disease and levels of economic development? and covers the following content: How rising standards of living, including access to food, clean water and sanitation, impact upon susceptibility to disease and influence a country's epidemiological transition.

The handout contains detailed flow charts to show how access to food, clean water and sanitation lead to changes in susceptibility to disease. There are also detailed annotated diagrams of the epidemiological transition, which are related to the demographic transition model. Activities are included are evaluative, getting students to think about how quickly/slowly countries pass through the model(s) and what the connections between the two models are.
Read more