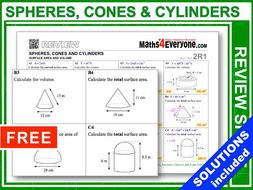 TES PICKS
Spheres, Cones & Cylinders (GCSE 9-1 Summary)
This worksheet is great for students to revise calculating Surface Areas and Volumes for Spheres, Cones and Cylinders.
Click --> https://tes.com/.../Revision to see the list of GCSE Revision Sheets on other topics, which includes the worksheet 'Spheres, Cones and Cylinders (Working Backwards)'. It has some excellent questions and will challenge even the most able students!
--
These sheets are great to use in class or as a homework. They are also excellent for one-to-one tuition and for interventions.
Solutions are included.
About this resource
Info
Created: Sep 21, 2017
Updated: May 15, 2018