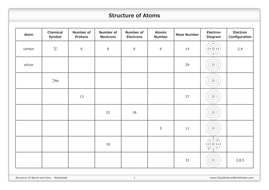 Structure of Atoms and Ions [Worksheet]
Two worksheets covering structure of atoms and ions in terms of:

Number of protons, number of neutrons, number of electrons, atomic number, mass number, isotope symbol, electron configuration diagrams and electron configuration shorthand.

Includes answer versions.

A full preview of this resource is available at (copy-paste link):
www.goodscienceworksheets.com/structure-of-atoms-and-ions-worksheet.shtml

*** This worksheet is also included in the larger worksheet Atoms, Elements and Compounds. ***
About this resource
Info
Created: Jul 21, 2016
Updated: Feb 22, 2018
Other resources by this author
Activity for for intermediate high school chemistry. Ion shapes designed for cutting out and laminating. Shapes include name and symbol of each ion...
GoodScienceWorksheets
8-page worksheet for intermediate high school chemistry. Comprehensive worksheet containing a variety of questions, including extension and further...
GoodScienceWorksheets
Year 7 Science (Australian Curriculum) The Scientific Method [BUNDLE] Save 30% off individual prices Includes the following resources: * Unit Outli...
GoodScienceWorksheets
Popular paid resources
This is for any GCSE (or exam) subject. This download includes a generic (multi-subject) A3 double-sided DIRT worksheet and PowerPoint instructiona...
godwin86
Originally designed to accompany BTEC qualification. Could easily be used for AEN students to guide them through basic atomic structure theory and ...
david_worden
Detailed revision notes on the Elements of life chapter, Including everything the specification recommends
amyward0599
Updated resources
AQA A-level chemistry unit 3.1.2 Amount of Substance - Lesson or Revision workbook with answers This workbook covers a whole unit of work combining...
Professor_Bunsen
New AQA A-Level Chemistry PowerPoint file - containing over 200 past exam questions and 250 slides! This is a well-organised, clear to read and use...
aewood1993
resource tabulating the principle physical properties of the Group 1 metals for use with this topic.
prhilton