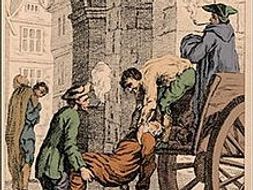 The Great Plague, an Investigation
Using a range of sources and historical data, learners investigate and record the spead of the Great Plague. This provides them with a god understanding of the methodology of the day along with developing their awareness of the varied types of views held at the time. Data rich, this activity also illustrates how destructive infectious diseases could be and provides the basis for much discussion about changes in towns and cities over time. There are various activities within the pack which allows for differentiation or extension of the study over a series of lessons. Examples of audio visual presentations created by my classes as a result of this study can be found on my youtube channel or via the schoolshistory.org.uk website.
About this resource
Info
Created: Dec 19, 2016
Updated: Mar 30, 2018
Get this resource as part of a bundle and save up to 71%
Other resources by this author
Medicine in History is a fun topic that brings Ancient and Medieval Civilizations to life. Class research the way that Medicine was practiced in th...
dmoorhouse
The Renaissance in Western Europe led to many changes in society and medicine. These worksheets provide a solid narrative to the main changes that ...
dmoorhouse
The Peasants Revolt. A series of resources designed to teach the causes of the Great Revolt of 1381 and re-enforce learners comprehension of the wa...
dmoorhouse
Popular paid resources
A lesson to introduce the 6 wives of Henry VIII, it includes various activities for students to engage in to explore the personalty of Henry VIII a...
leighbee23
This is a complete lesson exploring the Slave Trade triangle. It includes a map task, have and need task, card sort on the reasons slavery was just...
leighbee23
Goes from the dinosaurs through key periods of history to the present day. Use MS Word to adapt it. I have added the Stone, Bronze, Iron and Middle...
MrCMaths
Updated resources
A simple poster on Chronology to post around the classroom. This will help pupils in KS2 & KS3 become familiar with some of the key terms relat...
JosephMukuka
This great little resource gets students to sort through a series of information cards describing the actions of Oliver Cromwell during the English...
Roy_Huggins