Whole-school Irish gaelic resources: adjectives and adverbs
Keeping your class engaged with fun and unique teaching resources is vital in helping them reach their potential. On Tes Resources we have a range of tried and tested materials created by teachers for teachers, from pre-K through to high school.

Breathe new life into your lesson plans with our elementary, middle school and high school classroom resources. Whether you're looking for fun math worksheets or brand new guided reading activities, we have thousands of free and premium resources for you to download. From kindergarten to elementary you'll find K-5 resources, including phonics worksheets and numeracy games. From middle school through to high school we have everything from Spanish lessons to algebra activities, as well as Common Core-aligned lessons and revision guides for tests.
Read more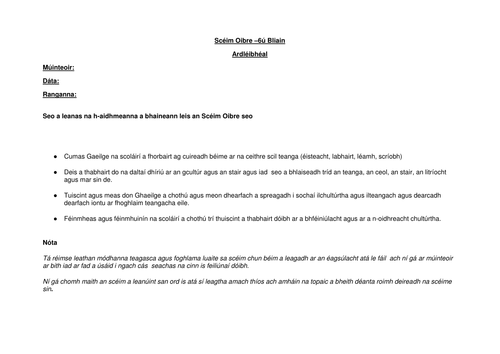 A scheme of work for 6th Year Leaving Certificate. Use and adapt to the needs of your school. Claddagh Classrooms
Are you learning Irish Gaelic? Are you looking for a fun way to learn Irish Gaelic? I have developed a way to learn different languages based on my experience as an ESL teacher. This pack has 57 different settings for students to talk about in Irish Gaelic. The worksheets themselves are in English and the students do need to translate the places and objects they see into Irish Gaelic. At the end of the session, the students can play a fun game of word bingo to show they have mastered that day's vocabulary. Try it, it is a lot of fun for everyone!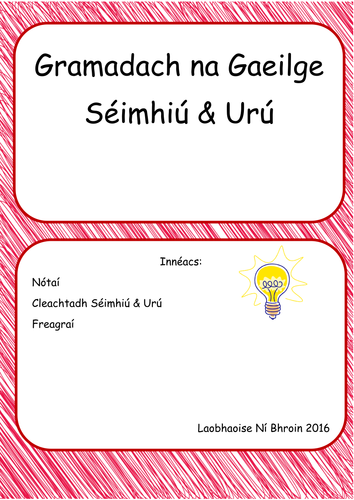 This Booklet contains all you need to know about Seimhiú and Urú in Irish. (The most essential & confusing grammar rules for students) The booklet contains: A revision mat for Séimhiú A revision mat for Urú A practice exercise of 20 questions combining both sets of rules Answers to the practice questions. Bain taitneamh as:)
This bundle contains a PowerPoint and a 7 page booklet to teach the topic of the possessive adjective in Irish. There are loads of activities and students should feel very comfortable with this topic after they've completed all tasks.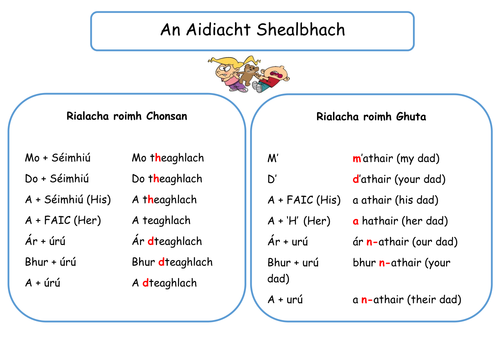 A simple one page revision mat for revising the rules of the possessive adjective in Irish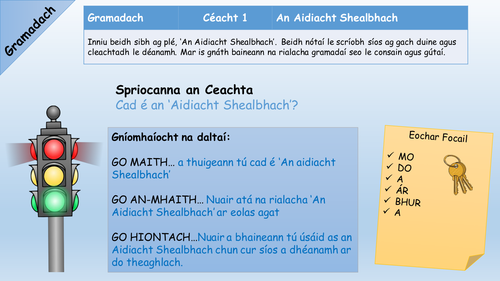 This PowerPoint contains all you need to know about the Possessive Adjective in Irish. It contains three small activities the first of which focuses on students ability to discover the grammar rules for themselves. The PowerPoint covers rules for consonants and rules for vowels and an activity to practice learning for both. The final slide mentions a homework activity which is part of a work booklet. This can be bought on its own or part of a bundle. Finally there is a revision mat with all the rules for students to pop into their notes folders / books:) Bain taitneamh as!