3Uploads
251Views
127Downloads
An activity to get students to think about the carbon footprint of different aspects of their lives. Students read the statements in the boxes and see which one best describes themselves. They then colour the corresponding section of the footprint. The more carbon intensive their lifestyle, the bigger the coloured footprint will be. This is a good way get students to think about the way their lifestyle choices effect the environment and prompts discussion about how students can reduce their carbon footprint.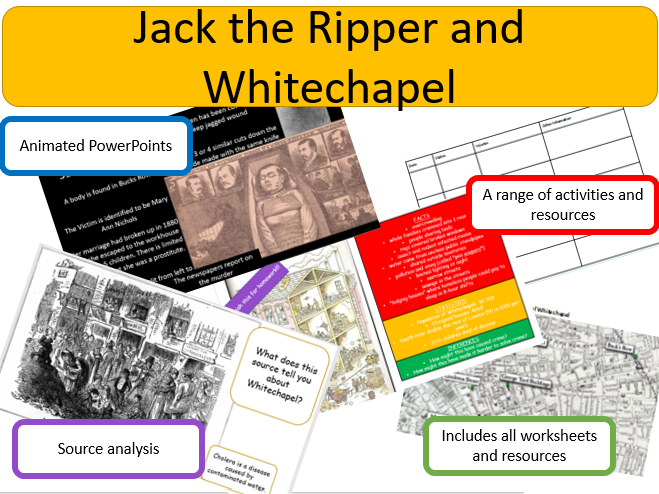 Lesson series focusing on Jack the Ripper. Includes a lesson in which students pretend to be investigators and follow through the Whitechapel murders as though they are police in H division, looking at the evidence as it comes in and making structured notes on the crimes and their effect on the people of Whitechapel as well as the way that the crimes are reported in the press. Resources are also available for students to look at the main suspects in the crimes. Also includes a lesson on living conditions in Whitechapel in order to help students understand the social context of the Whitechapel murders. This lesson series provides opportunities for students to analyse sources, look at the causes of crime in Whitechapel, understand police methodology in the 19th century and consider the impact of the press on the police investigation. All resources are provided in a dyslexia friendly font and with clear and uncluttered slides. Students tend to enjoy the creative aspects of the tasks as well as the opportunity to examine the Whitechapel murders from the perspective of the police investigation and find the experience immersive and engaging. Ideal for students in KS3 or for a unit on Crime and Punishment at KS4.
A collection of resources for a topic on ecosystems suitable for geography or biology. The lesson series focuses on 3 different ecosystems- desert, ocean and rainforest and considers how animals adapt to their environment and different ways that humans impact ecosystems through extraction of fossil fuels, carbon emissions and plastic pollution. It concludes with a lesson on creating sustainability. These lessons are ideal for students in KS3. All resources are provided in a dyslexia friendly font and with clear and uncluttered slides.