PROVISION MAP
Easily manage SEND and pupil premium
Our SEND management suite will help your special educational needs coordinators (Sencos) document, review and track learning plans and interventions in your school
Easily manage SEND and pupil premium
With Provision Map you can reduce staff workload, manage SEND pupils' provision and improve their learning outcomes. Our learning plans are very easy to use and are fully customisable to match your school. Plus, they're in-line with the UK SEND Code of Practice and follow the Assess – Plan – Do – Review approach.
Provision Map will help your teachers to become superhero Sencos by saving them 133 hours on administration per year and securing your school an average of over £15,000 in additional funding.*
Why choose Provision Map?
The flexible learning plans are easy to use and are fully customisable to adapt to your school

It's fast and easy to map out interventions and to keep track of what pupils and staff are involved in

Reviewing a plan or provision is quick and easy and fits in with SEND Code of Practice. Automatic reminders ensure you never miss a review

Our reporting engine saves Sencos and pupil premium co-ordinators hours of time every day, just choose the criteria you require and a detailed report is instantly available

Our optional plugin enables you to email staff and their replies will be collated and attached to the pupil concerned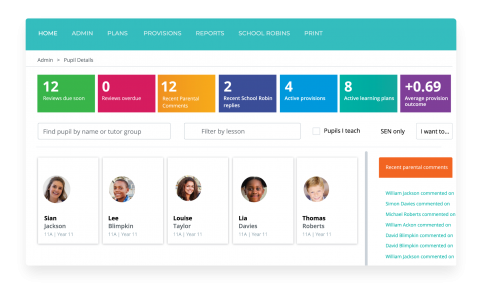 Schools recommend us
Saves time and stress, it allows a whole school holistic view of what provisions we offer.

Source: Provision Map feedback
Get in touch
Want to find out more about our SEND provision mapping tool? Fill in our short enquiry form and we'll be in touch. Alternatively, you can email us at recruitment@tesglobal.com or call us on +44 203 194 3050.
Latest news and guidance for managing SEND provision
* Schools using Provision Map to secure additional funding. January 2019 survey feedback.