Not the right job for you? 

Senior School Director of University Relations, Canada
Closing date:
TFS - Canada's International SchoolCanada
---
Date posted:
Start date: August 13, 2018
Contract type: Full Time
Salary: Undisclosed
Contract term: Permanent

Individuals who reflect, citizens who act
www.tfs.ca
TFS is a leading independent educational institution that has been instrumental in the shaping of today's Canada, as the first French immersion school in the country and pioneer of bilingualism. We are an extremely diverse community that sets out to develop multilingual critical thinkers who celebrate difference, transcend borders and strive for the betterment of humankind. Throughout our history, TFS students have been characterized by their academic ambition, as well as by their determination to acquire an international perspective on local and global affairs.
In pursuit of this mission, TFS recruits excellent educators who are deeply committed to the highest standards of teaching and learning, and who also share our passion for the all-round development of students as accomplished individuals and responsible citizens. Our teachers benefit from exceptional professional learning opportunities and a very competitive compensation package.
TFS is committed to safeguarding and promoting the welfare of children, young people and adults, and all of our staff and volunteers are expected to undergo child protection screening.
More than 25 years ago, TFS was authorized to teach the IB's Diploma Program, and became the first school in Toronto in which the program was mandatory.
TFS is authorized by the International Baccalaureate Organization to teach the Primary Years Program (PYP) and the Middle Years Program (MYP) and to offer the IB Diploma Program (DP).
Reporting to the Executive Director of the Learning Forum, and liaising with the Department Coordinator of Guidance, the Director of University Relations will coordinate the university applications process. He/she will work closely with Level IV and V students and parents to provide advice, assistance, and resources relating to university and scholarship applications; standardized university admissions test and requirements; and, university program planning. In addition, the role supports the Guidance program over 3 years to determine the passions, values, and interests of students and to provide a well-balanced approach to academic planning. Regular and effective communications with TFS staff members and also with outside organizations such as OUAC, College Board, UCAS, IBSO, and IBNA are also an integral part of this role.
The above will include, but not be limited to, such responsibilities as:
a) University Application Coordination and Program Leadership
Oversee the university application process
Provide Strategic Leadership and Development of the UR Program at TFS
Coordinate program with the university program faculty members
Assist students and families with research and decision-making through connecting to Guidance classes on a regular basis in Levels III to V (Grades 10 to 12)
Organize and implement workshops throughout the year on topics relating to university admissions including testing, personal statement writing, and interviewing skills. This includes US SAT prep and testing
Prepare and support teachers in the preparation of letters of recommendation
Coach student applicants with supplementary applications
Work closely with other departmental and school personnel to ensure accuracy and timely transmission of academic data
Coordinate records and admissions documents
Work closely with other Guidance teachers to develop Guidance curriculum as it relates to university application and student success including the Student-Based Support team.
Review IB results with individual students and their families in the summer, when required
Work strategically in collaboration with the Senior School Principal and the Senior School Leadership Team as well as other Vice Principal for Level IV &V (Grades 11 and 12), as well as IB DP and MYP and CAS Coordinators
Ensure compliancy of graduating students with accrediting bodies: Ontario and French and IBO
Ensure comprehensive understanding of school's curriculum continuum including the Ontario, French and IB to maintain and enhance school networks and communication
Facilitate accuracy of transcripts: Ontario and IB including Community Service and standardized testing results
b) Scholarship Application Coordination
Oversee the university scholarship application process
Assist students and families with research and coach student applicants
Prepare and support teachers in the preparation of letters of recommendation
Coordinate, where applicable, in-school selection committees
Work closely with other department and school personnel to ensure timely gathering of scholarship support materials
c) Resource Gathering and Professional Development
Develop and maintain close ties with university admissions office personnel
Host university admissions representatives
Keep current on university admissions requirements, programs, and trends
Participate in specialized professional development opportunities such as workshops, information sessions, university fairs, and campus tours
Prepare and deliver TFS University Relations Board Reports
d) Alumni Relations and Special Projects could include:
Host alum functions whenever/wherever PD opportunities permit
Liaise with Communications and Advancement re: Grad/Alum successes, etc.
Coordinate the CAIS National Tracking Project
Complete annual survey of graduating students
Enter data from graduation to 5-year university completion
GAP Year students: Counseling applications and transition to university
Write and represent TFS in professional publications, conferences, CAIS, and University Relations meetings.
Qualifications:
Certification as a teacher with skills, training and expertise in social-emotional learning and/or credentials as a guidance counsellor
Minimum of three years' leadership experience in area of responsibility
Extensive experience assisting high school students with university and scholarship applications
Strong and current networks with post-secondary institutions as well as local and international University Relations organizations
Expertise and experience in the application process to Canadian Universities
Expertise, current knowledge and experience in the application process to universities in Europe, the US and other international post-secondary institutions
In-depth knowledge of the French, Ontario and the International Baccalaureate Program, as well as national and international college and university programs as required
Strong interpersonal and communication skills required
Solid computer skills including Excel, PowerPoint, and social media
Fluency in French desirable
We recruit candidates who embrace our TFS values of: Integrity, discernment, respect and engagement.
Please send your covering letter and résumé by June 12th, 2018 to: jobs@tfs.ca
TFS is committed to providing accommodations for people with disabilities.
If you require an accommodation, we will work with you to meet your needs.
Êtres humains qui réfléchissent, citoyens qui agissent.
www.tfs.ca
TFS est une institution indépendante d'enseignement qui a contribué à façonner le Canada d'aujourd'hui, en tant que première école d'immersion française dans le pays et pionnière du bilinguisme. Nous sommes une communauté extrêmement diversifiée qui se propose de développer des penseurs critiques multilingues qui célèbrent la différence, transcendent les frontières et s'efforcent d'améliorer l'humanité. Tout au long de notre histoire, les élèves de TFS ont été caractérisés par leur ambition académique, ainsi que par leur détermination à acquérir une perspective internationale sur les affaires locales et mondiales.
Dans la poursuite de cette mission, TFS recrute d'excellents éducateurs qui sont profondément attachés aux normes les plus élevées d'enseignement et d'apprentissage et qui partagent également notre passion pour le développement global des élèves en tant qu'individus accomplis et citoyens responsables. Nos enseignants bénéficient d'occasions exceptionnelles d'apprentissage professionnel et d'un programme de rémunération très compétitif.
TFS s'engage à protéger et à promouvoir le bien-être des enfants, des jeunes et des adultes et tous nos employés et bénévoles doivent subir un dépistage de la protection de l'enfance.
Il y a plus de 25 ans, TFS a obtenu l'autorisation d'enseigner le Programme du diplôme de l'IB ; elle est devenue la première école à Toronto où le programme était obligatoire.
TFS est autorisée par l'Organisation du Baccalauréat International à dispenser le Programme primaire (PP), le Programme d'éducation intermédiaire (PEI) et à offrir le Programme du diplôme du Baccalauréat International.
ÉCOLE SECONDAIRE
DIRECTEUR DES RELATIONS UNIVERSITAIRES
Poste permanent à temps complet
Disponible le 13 août 2018
Sous la tutelle du directeur exécutif du forum d'apprentissage, et en liaison avec le coordonnateur du département de l'orientation, le directeur des relations universitaires coordonnera le processus des demandes d'admission aux universités. Il travaillera en étroite collaboration avec les élèves et les parents des niveaux IV et V pour fournir des conseils, de l'aide et des ressources concernant les demandes d'admission ainsi que les bourses d'études, les tests d'admission normalisés des universités et leurs exigences ainsi que la planification du programme universitaire. De plus, ce rôle appuie le programme d'orientation sur une période de trois ans afin de déterminer les passions, les valeurs et les intérêts des étudiants et de fournir une approche plus équilibrée à la planification académique. Des communications régulières et efficaces, avec les membres du personnel de la TFS et des organisations externes telles que le Centre de demandes d'admission aux universités de l'Ontario (OUAC en anglais), les conseils d'administration de collèges, UCAS, Écoles IB de l'Ontario (IBSO en anglais) et Baccalauréat International Amérique du Nord (IBNA en anglais), font également partie intégrante de ce rôle.
Ce qui précède comprend, et sans s'y limiter, des responsabilités telles que :
a) Coordination des demandes d'admission universitaires et du programme de leadership
Superviser le processus de demandes d'admission à l'université
Assurer le leadership stratégique et le développement du programme RU à TFS
Coordonner le programme avec les membres du corps professoral du programme universitaire
Aider les lycéens et les familles dans la recherche et la prise de décision en participant régulièrement aux classes d'orientation des élèves des niveaux III à V (de la classe de seconde à la terminale)
Organiser et animer des ateliers tout au long de l'année sur des sujets liés aux demandes d'admission à l'université, la prise de tests, la rédaction de lettres personnelles de motivation et les techniques d'entrevue. Cela comprend la préparation et la prise du test américain SAT
Préparer et soutenir les enseignants dans la préparation des lettres de recommandation.
Former les étudiants candidats aux demandes supplémentaires
Travailler en étroite collaboration avec les autres membres du personnel du département et de l'école afin d'assurer l'exactitude et la transmission des données académiques dans les délais prévus.
Coordonner les archives et les documents d'admission
Travailler en étroite collaboration avec d'autres enseignants en orientation pour élaborer un programme d'orientation concernant l'application universitaire et le succès des élèves, y compris l'équipe de soutien aux étudiants
Communiquer les résultats du BI aux élèves et à leurs familles pendant l'été, au besoin
Travailler collaborativement et stratégiquement avec le directeur de l'école secondaire, son équipe de direction, le directeur adjoint des niveaux IV et V (classe de première et terminale), ainsi qu'avec les coordonnateurs des programmes du diplôme BI, des programmes du Baccalauréat International moyen du BI et du programme CAS.
Assurer une compréhension globale du continuum du curriculum de TFS, y compris ceux de l'Ontario, de la France et le BI, afin de garantir une communication sans égale entre l'école, les réseaux scolaires et les universités
Assurer la conformité des étudiants diplômés avec les organismes d'accréditation : Ontario, France et Organisation du Baccalauréat International
Faciliter l'exactitude des relevés de notes : Ontario et le BI, y compris le service communautaire et les résultats des tests normalisés
b) Coordination des demandes de bourses d'études
Superviser le processus de demande de bourse d'études universitaires
Aider les étudiants et les familles avec leurs recherches et former les étudiants au processus d'applications
Préparer et soutenir les enseignants dans la préparation des lettres de recommandation
S'il y a lieu, coordonner les comités de sélection
Travailler en étroite collaboration avec les autres départements et le personnel scolaire pour assurer la collecte ponctuelle du matériel de soutien aux bourses d'études.
c) Collecte de ressources et perfectionnement professionnel
Développer et maintenir des liens étroits avec le personnel des admissions universitaires
Accueillir les représentants des services des admissions de différentes universités
S'informer des exigences des programmes et des tendances en matière d'admission à l'université
Participer à des occasions de perfectionnement professionnel spécialisées telles que des ateliers, des séances d'information, des foires universitaires et des visites de campus
Préparer et livrer les rapports du Conseil des relations universitaires de TFS
d) Les relations avec les anciens élèves et les projets spéciaux pourraient inclure :
Accueillir des réunions d'anciens élèves où et quand les opportunités de développement professionnel le permettent
Assurer la liaison entre les départements des communications et de la promotion en ce qui a trait aux succès des diplômés et des anciens élèves
Coordonner le projet de suivi national de CAIS
Compléter le sondage annuel des finissants
Entrer les données depuis l'obtention du diplôme à l'achèvement de l'université 5 ans plus tard
Étudiants GAP : demandes de soutien et transition vers l'université
Écrire et représenter TFS dans les publications professionnelles, les conférences, CAIS et les réunions sur les relations universitaires.
Qualifications
Être enseignant(e) certifié(e) avec qualifications, formation et expertise en apprentissage socio-émotionnel et/ou conseiller en orientation
Avoir un minimum de 3 ans d'expérience dans un poste de responsabilité
Expérience de travail reconnue, acquise en travaillant avec les élèves faisant leurs demandes aux universités et aux bourses
Avoir des connaissances approfondies sur les critères d'admissions aux universités et collèges nationaux et internationaux.
Avoir des connaissances approfondies dans le processus d'application aux universités canadiennes.
Expertise, connaissance et expérience dans le processus d'application aux universités européennes, aux États-Unis et autres institutions universitaires internationales.
Avoir des connaissances approfondies sur le programme français, de l'Ontario et du baccalauréat international ; sur les critères d'admissions aux universités et collèges nationaux et internationaux.
Avoir d'excellentes aptitudes interpersonnelles et de communication.
Compétence approfondies en informatique : Excel, PowerPoint et médias-sociaux
Bilinguisme français et préférable
Nous recrutons des personnes qui mettent en évidence nos valeurs d'intégrité, de discernement, de respect et d'engagement
Veuillez envoyer votre cv et votre lettre de motivation d'ici le 12 juin 2018 à : jobs@tfs.ca
TFS s'engage à rendre le procédé d'embauche plus accessible.
Si vous avez des besoins particuliers, nous travaillerons avec vous pour répondre à vos demandes.
---
---
---
More about TFS - Canada's International School
×
Type: Mainstream School
Phase: All-through with sixth form
Funding status: Independent
Gender: Mixed
Age Range: 2 - 18 years
Address:
West Campus,
1293 Meredith Avenue,
Mississauga,
Ontario,
L5E 2E6,
Canada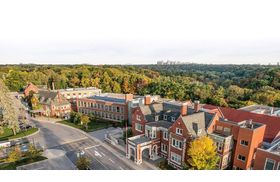 Contact TFS - Canada's International School
Thanks for your interest in this role.
Simply fill in the form below to ask any questions, request a call, or schedule a school visit.
Your name:
This field is required
What is the best way to contact you?
Questions, requests or comments: