The class book review: The Storm Keeper's Island
A tempestuous tale of myths and memory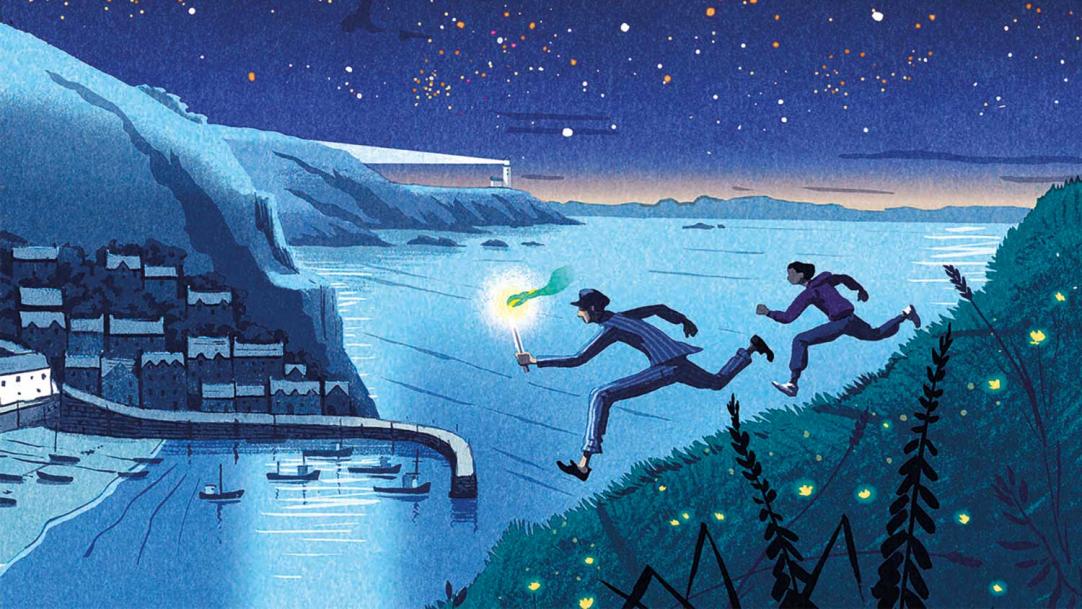 Title: The Storm Keeper's Island
Author: Catherine Doyle
Publisher: Bloomsbury
Details: 320pp, £6.99, paperback
ISBN: 9781408896884
From the moment Fionn and Tara's feet touch the ground on their hereditary island home of Arranmore, they are involved in a twisting, time-leaping, family mystery. Who is the Storm Keeper and why is Grandfather's cottage filled from floor to ceiling with strange candles? More to the point, who will be the next Storm Keeper? Rooted in Irish mythology, this is nevertheless a modern tale navigating the choppy waters of family rivalries, mental health and old age seen through the eyes of young people. As Grandfather's memory fades, Fionn must figure out not only what his role is on the island but also how to work with the island itself – and against those who would steal its power – to keep ancient horrors at bay.
The Storm Keeper's Island is a slow-burn magical realism mystery. Our group of readers found this challenging and somewhat confusing at first, particularly as the prologue doesn't relate to the story at all until you uncover certain details and relationships deeper into the book. After a few chapters, however, they were completely drawn in by the magical prose, and several of the children compared the book to Francis Hardinge's writing. Readers who enjoy Geraldine McCaughrean's books will also appreciate the style. As a group, they found Grandfather's decline into memory loss rather worrying and some were able to relate their own similar experiences with family members. One relationship they all commented on was the story arc between Fionn and his older sister Tara as they move from bickering siblings to allies in the face of danger. Every member of the group found this developing relationship very satisfying and made a point of saying they would like to read about such family dynamics in the future.
The gradual unveiling of each vivid detail is enchanting. While it is based on Irish mythology, it is approachable without any prior knowledge and reminded me rather of Alan Garner's treatment of Welsh mythos in The Owl Service. This is a tale that requires reading stamina as it hops back and forth through time, peeling back memories and events over the course of hundreds of years. We would recommend it to strong readers in Year 5 and upwards – and we can't wait to find out what happens in the sequel!
Caroline Wood is librarian at Ashleigh Primary School in Darwen, Lancashire. Find her on Twitter and Instagram @seawoodwrites
Pupil reviews
'It really got you thinking ... I will definitely read the sequel'
I liked how it really got you thinking who was the Storm Keeper. I loved how Fionn and Tara's relationship changed throughout the book. I started to get worried when their granddad got ill. I didn't really understand the whole book until about chapter six. Overall, I thought the book was quite good and I would recommend it for keen Year 5 and 6 readers. I will definitely read the sequel. I would rate it 8/10.
Keira, age 9
'As the story went on, you understood more'
I like how Fionn and Tara's relationship started to grow throughout the story. I also like that at the start you read the letter and as the story went on you understood it more. I would like to read the sequels and see what happens next. I got a little bit scared when their granddad forgets things. I would definitely give the book 10/10.
Annabelle, age 10
'It unravels information'
I like how mysterious it is. I also like how it unravels information as you go on. I recommend this to people who like mysteries. I am looking forward to the next book.
Carmya, age 10
'My favourite character is fun and happy but sad when she wants to be'
I like how Tara goes missing. I like how it shows how the granddad becomes forgetful. Shelby is my favourite character. She is fun and happy but sad when she wants to be. I would like to see more of the story, maybe when Fionn is older and his children have adventures. I think nine- to 14-year-olds would like this. I rate it 10/10.
Eva, age 10
'A huge ending'
I think this book is brilliant. The mysterious aspect is brilliant. As you go through the book, you learn more about the island and the Storm Keeper before a huge ending. I recommend this to anybody who enjoys slow-burning mysteries. I look forward to the second book!
Oliver, age 10
If you or your class would like to write a review, please contact sarah.cunnane@tes.com