More than nine out of 10 teachers of GCSE and A levels say their students have fallen behind compared with where they would expect them to be at this stage in the school year under normal circumstances.
The latest Tes survey of school staff reveals that 93 per cent of these exam teachers fear students are either "noticeably" behind (42 per cent) or "hugely" behind (15 per cent) or "a little behind" (36 per cent). 
One teacher said: "Exam content needs to be reduced for next year's exams." Another added: "It is going to be extremely difficult to cover all the content with adequate time for revision before the exams take place if they are not delayed in some way."
---
Geoff Barton, general secretary of the Association of School and College Leaders, said exam regulator Ofqual hadn't gone far enough in its plans for concessions to help next year's exam candidates and that "urgent" decisions were needed from the government .
He added: "We said in August, when Ofqual published its decisions over adjustments to exams in 2021, that it was tinkering at the edges and its plans didn't go far enough.
GCSEs and A levels 2021: Will exams be delayed?
"These survey results tend to reinforce the point that it has underestimated the impact on students of the national lockdown. Even more worrying is the likelihood of further disruption to come.
"The dilemma now is that introducing further adjustments will result in schools having to revise plans they have already put in place, so it is not an easy situation.
"One option is to delay exams to a later date to allow for more teaching time, but we are still waiting on a government decision. There is also no contingency plan if the preparation of students is severely disrupted or if they are unable to sit exams.
"Frankly, the whole thing is getting very messy, and we urgently need some decisions from the government. Schools and colleges need to be able to plan with some degree of confidence about what happens in different scenarios. The government doesn't seem to have understood the urgency."
Meanwhile, a separate question in the Tes survey revealed that 93 per cent of all teachers (not just of GCSE and A-level) said their pupils had "fallen behind academically" compared with where they would expect them to be now under normal circumstances. 
Of the 6,679 responses, 11 per cent said pupils were "hugely" behind, 41 per cent said "noticeably" behind, 40 per cent said "a little" and 7 per cent said "not at all".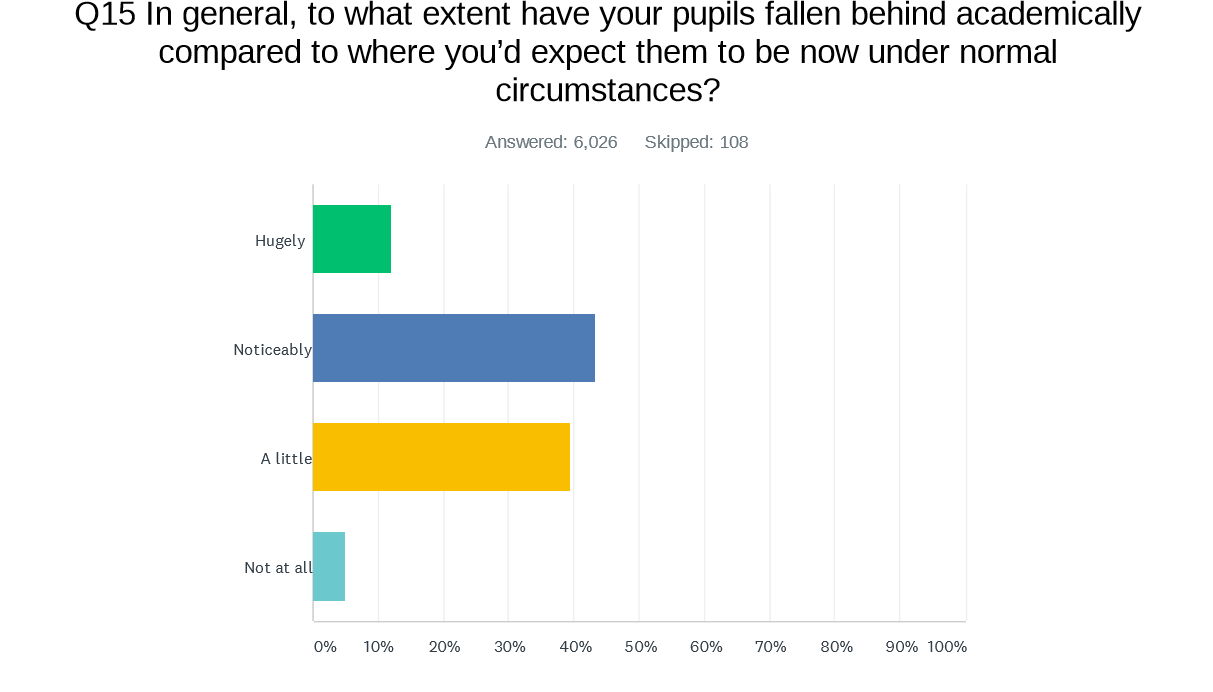 However. when results were broken down for state and private schools, 22 per cent of private school teachers said pupils had not fallen behind at all – compared with 5 per cent of state school teachers. And only a quarter of independent sector teachers said pupils were "noticeably" behind compared with 43 per cent in state schools.
A DfE spokesperson said: "We expect exams to take place next year and continue to work with Ofqual and the exam boards on our approach, recognising that students will have experienced considerable disruption to their education in the last academic year.
"There are a range of measures proposed by Ofqual following a public consultation, including a possible short delay to the exam timetable and subject-specific changes to reduce pressure on teaching time. We will continue to work with school and college stakeholders, Ofqual and the exam boards, to ensure that exams in 2021 are fair."