"Our younger generation are bombarded by climate change, by disaster news, and, yes, it's all true. I think we're in danger of our children growing up panic-stricken, or it's going to be a bit like when you're exposed to too many horror stories, they don't scare you any more," says John Dyer.
Dyer, a Cornish painter and the Eden Project's artist in residence, believes that young people need to be educated about climate change. But he's not a fan of scare tactics. Instead, he says that children need to form a real connection to the natural world, and through this connection decide that they want to be part of the solution.
The key to developing this connection? Art, says Dyer. Or more specifically, creativity. 
He says that if children take the time to paint, draw or creatively interpret something in the natural world, they create space in which they can be themselves, in which they can reflect, question, and understand it visually – even take the time to learn more about it, scientifically or biologically – and by the end of that process, they're connected to it.
The dangers of climate change
Take the northern white rhino: there are just two of them left in the world. Dyer believes that if children are given the time to learn about them, to see them in their natural habitat, to understand why they face extinction and what can be done to prevent it – and then encouraged them to draw or paint one based on all that knowledge – they become invested, they start to care.
This is the premise behind his newest project for schools: Last Chance to Paint. On Wednesday, he will be filming and producing artwork from the Yawanawá tribe in the Amazon. He's there for a week, and every day will be posting a video for schools around the world to watch for free. It's a window into a world that's completely beyond the norm for British children – and Dyer is hoping that by allowing schools to submit the questions they want to ask the tribe members, and then answering them on the next day's video, it will provide that in-depth connection to them. And then, as a result, students will be eager to find out what they can do to ensure that these beautiful pockets of the world are protected.
"At the minute I think pupils think of adults as part of the problem, and that they're going to be quickly part of the problem, and I don't think it's very healthy," Dyer says.
"Last Chance to Paint is a heads-up. It's saying, yes there are only two northern white rhinos in the world, yes these tribes are under threat, but it's a project of hope and positivity. I do believe that art can help to change the world, because it creates that feeling of reflection and connection that I don't think pupils get at the moment."
Year 3 and MFL teacher Kately Kinnersley will be watching the videos and submitting questions to Dyer with her class this week. She says the project is a perfect way to teach small children about climate change.
"You don't want to terrify children, you don't want to say, 'If you use non-reusable plastic the walruses are going to go extinct.' But, at the same time, they've got to realise and take responsibility. Adults are so set in their ways. It's very hard to undo what they've always done – but with children it's different.  
"Children need to have a connection to what they're painting, otherwise what's the point? It's through the art that they can then make a connection to the environment. If they start to think, 'This could be the last chance I have to paint this,' suddenly it really hits home," she says.
Learning through art
The project has already had a huge influence on her school – they're planting hedges where there were once fences, they've planted a meadow behind the science room. There's now an eco-garden outside Kinnersley's classroom, made from eco-bricks and sustainable materials, with bee-friendly areas and hedgehog homes incorporated. In art lessons, they've been creating tribal masks (see below).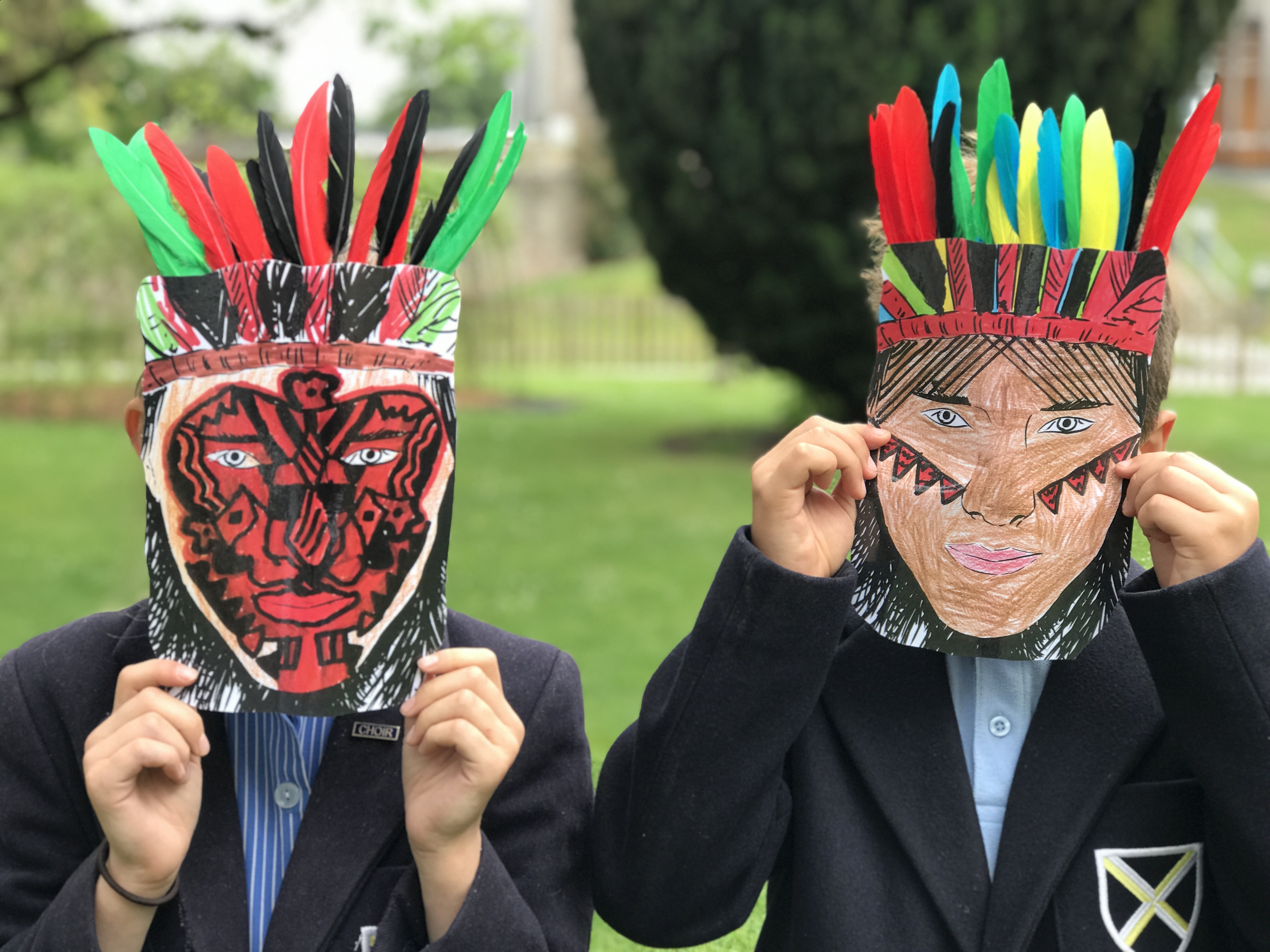 "It's all been inspired by the Last Chance to Paint project: we're showing the children that small changes make a big impact," she says.
Assistant headteacher Claude Martin agrees. He says he's using the project to show his class that it's not about changing the world, but changing their world.
"This kind of stuff, which is really distant to a little village in rural Cornwall, it brings it to life and it shows pupils that actually these people really do exist and do have these problems and there are these things that we can do about it on a small scale. We can all make little differences.
"We've got our rural deprivation issues that go on here, but that larger deprivation picture is really difficult sometimes to deliver in this type of environment. We don't have a multicultural intake. Most of my children haven't actually left Cornwall, never mind explored the rest of the world, so it does feel really distant. This project is a good window into that," he says.
For more information about the Last Chance to Paint project, click here.