With the new GCSE drama specifications coming in, students are being asked more and more to demonstrate that they understand how theatre works.
It isn't enough simply to understand the play and what a particular production did with the text. Just knowing what they as an actor might do in a particular scene won't get pupils anywhere near top marks. Rather, they have to understand how the lighting works; what considerations go into the set design and staging; the difference that costume choices can make to the overall meaning of a production; what sound design really is and how best to use it; and how all of the above can reflect what is written on the page.
Add to this the frequent technological advancements in lighting, sound, staging and audiovisual elements, and it's clear that students are having to take a far more holistic approach to their theatrical understanding. This is to be encouraged and celebrated, because the more our young people understand and appreciate all the many elements that make up theatre, the richer our theatrical future will be. But from a teaching perspective our jobs have just got harder.
Curtain up
So, how do we as teachers give students this rounded, hands-on theatrical education? In an ideal world, we would all work in schools with fully equipped, working theatres, complete with lighting rigs, extensive speaker systems so pupils can experiment with sound design, costume and textiles departments, and workshops where we can design and build sets and props.
This would be a space where our students could fully employ the theories of Aristotle, Artaud and onwards, right up to Marianne Elliott and Robert Icke, allowing them to get a clear grasp of, and build on, the millennia that have shaped and honed the theatre.
Well, I'm not sure what your school is like, but mine doesn't look anything like the above. More often than not, productions are squeezed in with everything else going on, and help, when offered, is constantly juggled with my colleagues' myriad other extra commitments.
Of course, there is always the option of the theatre trip. Most teachers of drama and English will be more than familiar with taking students to see live theatre. Despite the dreaded paperwork, the risk assessments, the challenge of getting students to sit in their assigned seats and the constant guilt about the elderly couple who have come up to the city for a relaxing matinee only to be surrounded by hundreds of schoolchildren, these trips are invaluable for seeing theatre come to life and for bringing a text off the page.
However, they remain essentially a passive experience. The students, as the audience, get to sit back in their seats, open their Maltesers and let the experience wash over them. I'm not knocking it. I am fortunate enough to be able regularly to take students to the theatre and will continue to do so. But do these trips on their own really allow pupils to understand what goes into creating these shows and, more importantly, how to use these techniques to further develop their learning?
Immersive theatre
The London Dungeon might just have the answer. This landmark attraction has been entertaining audiences for 45 years with its historical experiences and tongue-in-cheek horror, but it also does so much more.
One of the new GCSE drama specifications is that pupils must understand the social, cultural and historical context of the performance texts they are studying. With the London Dungeon, you could hardly be more fully immersed in history: it's impossible not to get caught up in the magic that is being created.
On our own trip to the attraction, as we moved from the cellars of 17th-century Parliament, where Guy Fawkes' severed head explained how he was tortured, into the brutal plague hospitals, surrounded by the sick and dying, before being trapped in a burning building during the Great Fire of London, I began to fully appreciate just what was being done here.
I want my students to be able to assess a range of different dramatic techniques and contexts, to be able to draw on a number of influences when making and performing their own drama; the London Dungeon delivered. With each period we stepped into, narratives were being told; stories of actual events or fictional ones all brought to life within the space of five to 10 minutes. Each setting had its own unique feel created through set, sound, lighting, costume and a whole variety of performance skills. I was in the most phenomenal, holistic classroom and the students were lapping it up, because it was great fun.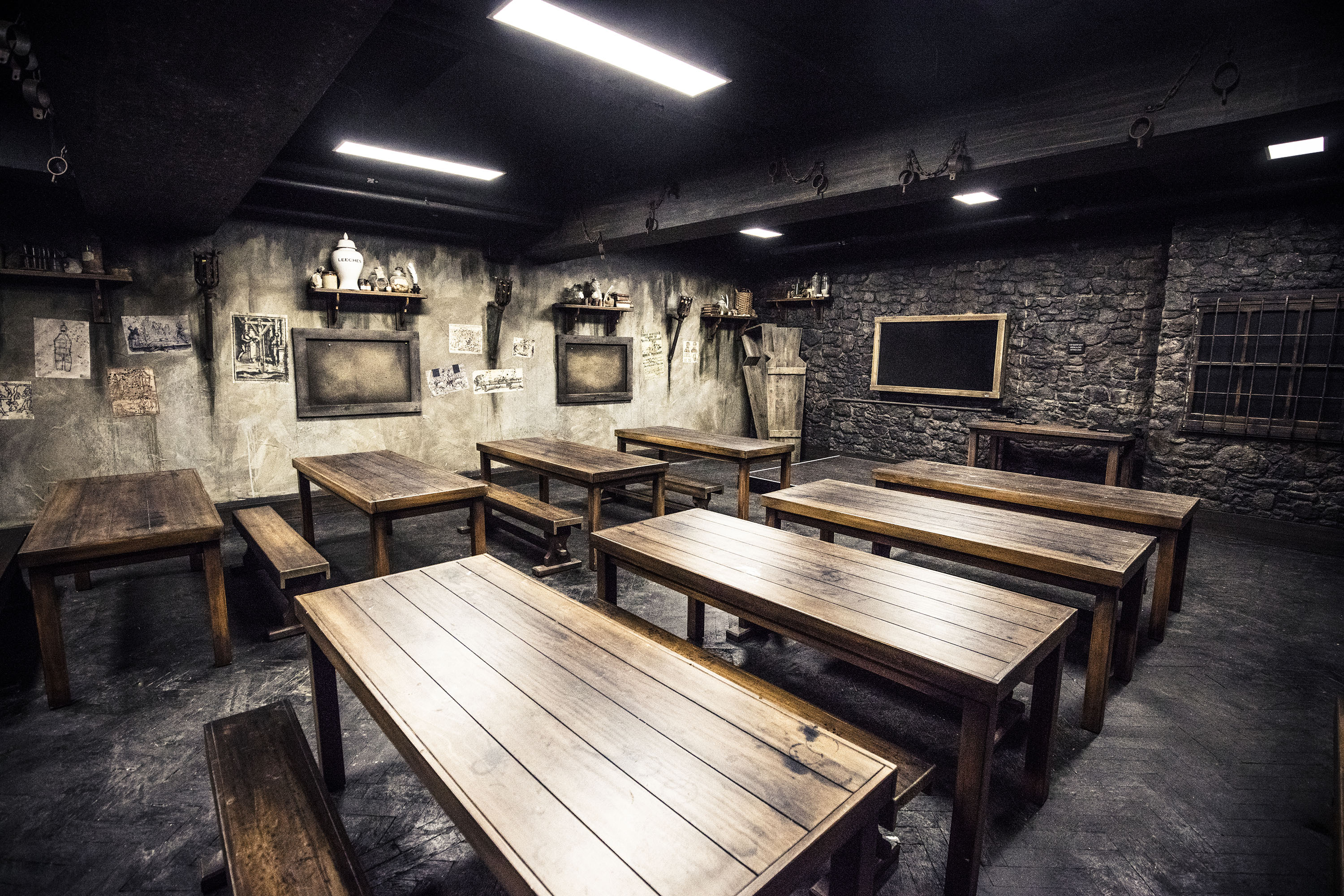 Technical know-how
With the new drama GCSE putting increased stress on production as well as performance, it is vital for students to get hands-on, practical experience. As well as being able to decide why a production might use lighting, costume or sound design in a certain way, they should also be able to create the effects themselves – and work collaboratively and independently to do so.
Regardless of the exam board used, all GCSE drama students will have to devise an original piece of theatre. It's hard. Really hard. Because apart from the challenge of creating the theatrical work, the students have to manage their burgeoning people skills, management skills and an understanding of group dynamics.
Well, the London Dungeon is offering an opportunity to do this in microcosm. Following a tour, the students can step into a study room and create their own pieces of theatre. This study room looks exactly like the dungeons. Candles flicker and wooden benches flank heavy tables straight out of a Victorian tavern. At one end of the room is a stage and above are theatre lights. The workshops are modelled around your particular focus. You can explore story structure and scriptwriting. Designers can explore past installations at the dungeons, looking at the technical aspects, set, lighting and sound that went in to creating the stories then and now. It is even possible to take a more scientific route in order to explore, health, disease and the development of medicines that came about through the 1665 plague.
Since students aren't faced with the pressures of an exam, they can relax and enjoy themselves and, when this happens, a lot of the previous challenges disappear. Furthermore, the students are riding high after their experience in the Dungeon and are getting to work with people who aren't teachers and who have just entertained them for the previous hour and a half.
Theatrical journey
After this, when the students return to school and are asked to devise their own theatrical works, they have a direct reference point for how to proceed, because they've already done it. They've already come up with ideas and found ways to translate them onto the stage; they've already managed to develop concepts and keep their group harmonious; they suddenly have a common theatrical language they can use. Their work in the London Dungeon study room could even be the initial stimulus that they can take back and develop further into their actual piece.
The mind boggles at the many different ways in which this could be used — in drama and English certainly, but also history, science and design technology. How could sets be designed to extend learning? How could characters be created? Which facts are essential in creating a feel for the period? How could this approach be used to bring set texts to life? The holistic experience that the new GCSEs demand can really be delivered in this way. I can't help but think of the irony that, sometimes, bringing horror into the classroom might be the way to alleviate the angst of hitting GCSE targets. 
Rob Messik is the director of drama and manager of the King Alfred Phoenix Theatre at the King Alfred School in North West London