The vast majority of primary schools are not offering live online lessons to pupils locked down at home, according to a new snap poll.
After schools across the UK closed last week, many have implemented platforms to ensure that pupils have work to complete at home.
But the new research suggests that most primaries are not conducting "live teaching" – where teachers lead classes online in real time, rather than set work for pupils to complete and send back via email.
---
Coronavirus and schools: LIVE
Coronavirus: Schools 'struggle' with key workers' pleas
Background: Key workers finally revealed for schools
---
The poll was carried out by a primary deputy head after a parent had "a meltdown" because the school was not offering live teaching. He had to point out that "so many of our families have only one device at home".
Any Primary schools doing live teaching? One of our parents is having a meltdown because we won't do it. I feel like sending a very rude email in response, but will control myself, but seriously, wth do they think this is? So many of our families have only 1 device at home

— Mr Deputy Head (@PrimaryDeputyH) March 23, 2020
Coronavirus closures: 'Schooling is allowed to take a backstep for a few weeks'
Nearly 2,000 responded to his poll on how many primaries were pursuing "live teaching" and nearly nine in 10 – 85.6 per cent – reported that they were not doing so.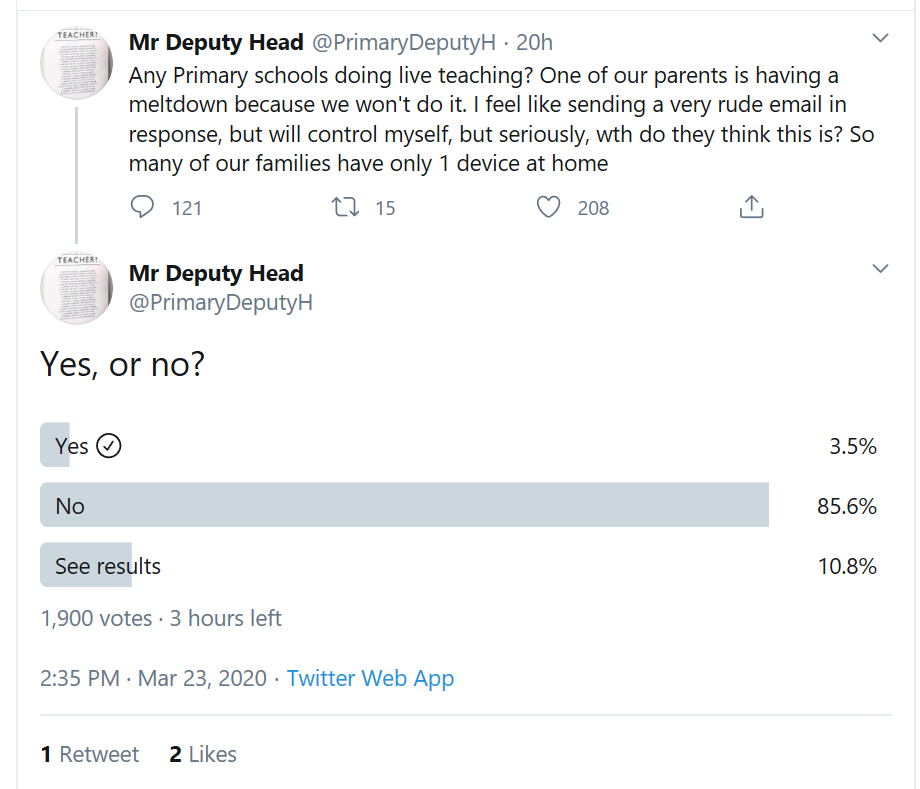 One teacher commented that running live classes was "fraught with safeguarding issues".
The deputy headteacher said the parent had "wanted a timetable to be created like you'd have in school, and a shared platform where pupils and teachers could come together and teach or learn new concepts".
He said that having consulted with multiple headteachers and school leaders, as well as having conducted the poll, he could see that live teaching "wasn't feasible" as "teaching new concepts would only widen the gap between higher and lower attainers and the most and least privileged", especially as not every parent would have the technology to enable live teaching for their child. 
He added that there were safeguarding issues involved and that it would only be practical for older primary pupils, as online teaching would be unsuitable for early years. 
The school had provided pupils with hard copies of learning packs, online links to the school website with a weekly plan for the next half term and the option to communicate with teachers through Microsoft Teams during school hours. 
But he added: "We are also very worried that if parents decide to self-teach their children using their own teaching methods, this could confuse children from the way they would normally be taught in school, which would be more detrimental to the children's learning.
"And we think the focus should be on supporting their children emotionally at the moment. Schooling is allowed to take a backstep for a few weeks."