The coronavirus infection rate in secondary school-age children has risen by more than ninefold in a month, new statistics reveal.
On 8 October, an estimated 0.93 per cent of children in Years 7 to 11 tested positive for Covid-19, compared to 0.1 per cent on 8 September, data from the Office for National Statistics (ONS) shows.
Secondary school pupils have the second-highest coronavirus infection rate of all the age groups, behind only the 17-25 bracket.
---
Related: Teachers demand two-week school closures after cases jump
Coronavirus: NEU demands action as pupils aged 10-19 top Covid table
Revealed: SAGE warning over schools spreading Covid
Viewpoint: I can't help it – I see my pupils as a Covid risk
---
And the data shows the rate among secondary pupils went up significantly in the two most recent weeks on record. The proportion of children in Years 7 to 11 testing positive for the virus stood at 0.29 per cent on 24 September.
Two weeks later, on 8 October – the most recent date for which figures are available – it had more than trebled.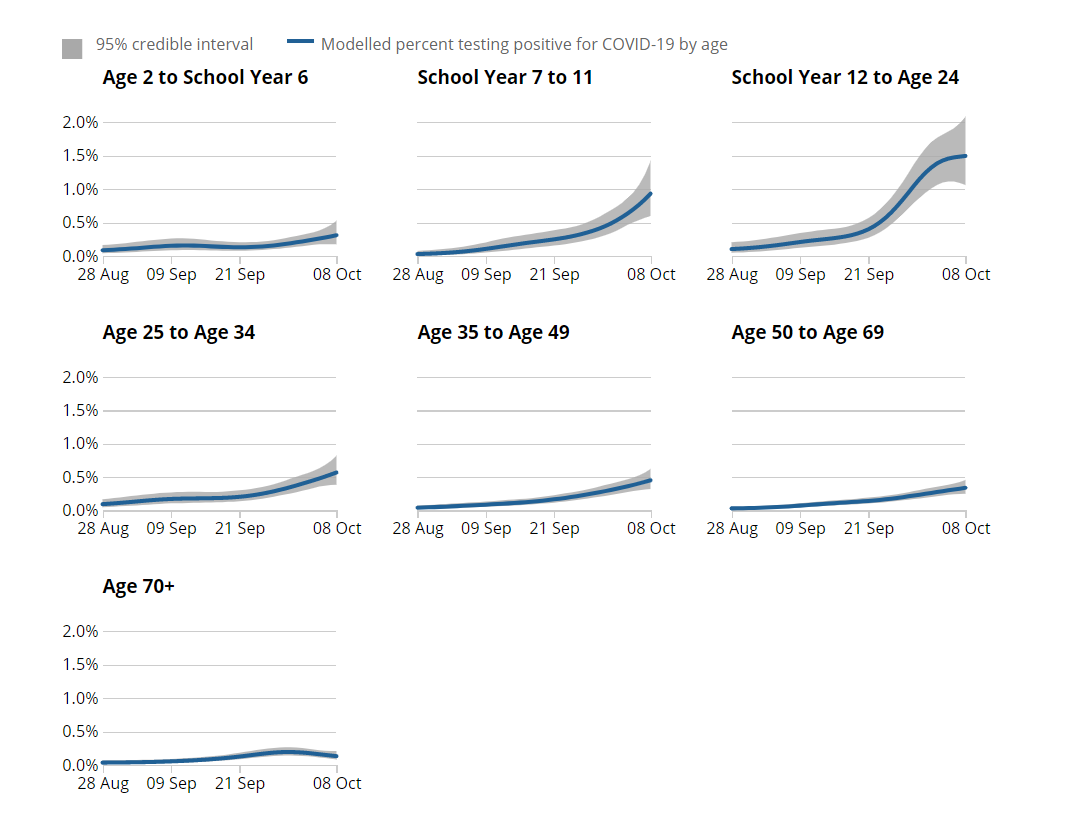 The coronavirus infection rate among children "in primary school and below" has also more than doubled over the past month.
On 8 October, 0.31 per cent of children in the bracket "age two to school Year 6" tested positive for the virus, compared to 0.15 per cent on 8 September. 
The data shows the estimated percentage of the population testing positive for coronavirus on nose and throat swabs, daily, by age group since 28 August.
It refers to infections reported in the community, and does not include infections reported in hospitals, care homes and/or other institutional settings. 
The estimates are presented at the reference value for a region, which is the East Midlands.
"This does not affect the overall trend over time, but estimated probabilities for other regions would vary in level," the ONS data says.