Exam boards are facing an uphill struggle to remove fraudulent posts on social media from people claiming to have leaked GCSE papers, Tes can reveal.
Some tweets are remaining online days after the boards are notified about them.
---
Background: Ofqual warning about GCSE papers being offered for sale
Read: A-level Edexcel maths paper leak referred to prosecutors
Read: Exam cheating commission wants to 'future proof' the system
---
Last week, Tes revealed how "fake news" about leaked GCSE exam papers is spreading panic among pupils online.
In some cases, individuals are posting photos of past papers with the date doctored, to try to con candidates into parting with cash.
After publishing the story, Tes noticed tweets from a new account claiming to have exam papers which had not yet been sat. On Wednesday 5 June it appeared to be offering an AQA GCSE biology paper due to be sat on Friday 7 June for £75.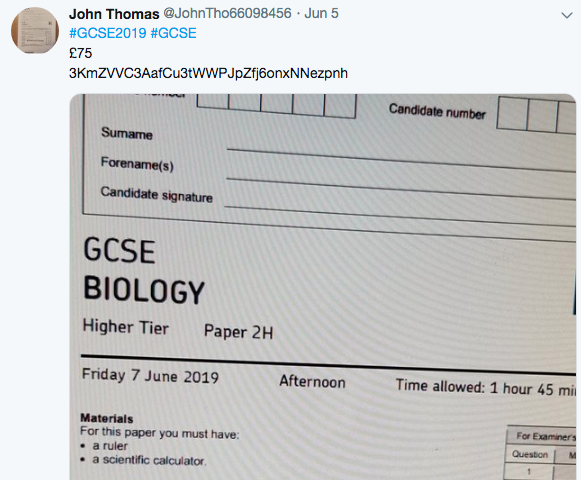 Tes notified AQA about the tweets, but until yesterday they were still online.
And on Monday the account posted a tweet appearing to offer an AQA GCSE maths paper – which pupils sat yesterday morning – for £50.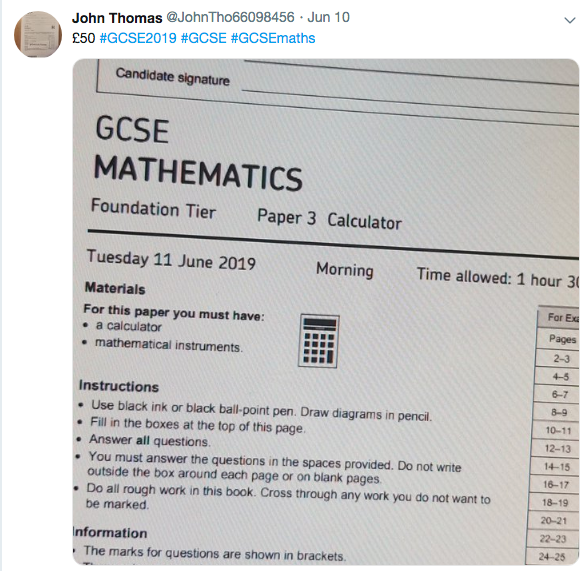 The account has now been suspended by Twitter.
AQA confirmed to Tes that the tweets are fraudulent. The board reported them to Twitter and asked for them to be removed as soon as possible.
However, an AQA spokesperson told Tes that reporting posts to Twitter where it looks like a crime is being committed is "not as straightforward as we'd like…so we hope that will change".
The board has been monitoring the user's output and believes pupils have not fallen for the scam because it has received little engagement. AQA also said it was looking at new ways to tackle and discredit this sort of online fraud.
Louisa Fyans, AQA's head of exams integrity and inspection, said: "We have a dedicated team that monitors social media and investigates all cases. Where necessary, we take further action, including working with the police on suspected fraud cases. 
"It's very unlikely that exam papers being offered for sale are genuine. Our advice to students is always to steer well clear – as trying to buy even a fake paper could get them in a lot of trouble."
A Twitter spokesperson said: "We don't comment on individual accounts for privacy and security reasons. As outlined in the Twitter Rules, users are not allowed to sell or promote the sale of counterfeit goods on the platform."