"I give it, like, five days. I'll probably be kicked out."
Harry (pictured above) has just left the celebrated Reach Academy Feltham, in West London. He's got a new school place at a social, emotional and mental health provision in West London. After two years, Reach's staff have concluded that they can no longer offer Harry the support he needs when it comes to learning to read and write.
But this isn't the start of Harry's story. It's one that didn't even begin 16 years ago when he was born. It began decades before that. Harry's dad, Grant, left school with no qualifications, unable to read or write. His father, Harry's grandfather, couldn't read or write either.
"I didn't learn nothing at school. I've got no education, no qualifications. My sister said I kept walking out of lessons. That was probably because I was having trouble reading and writing," says Grant. 
"My dad is much worse than me actually. I've never seen my dad read a paper because I know he can't do it. Life does repeat itself. It's just like repeat, repeat, repeat. I've had it and now my dad's had it. And now my son's going to have it."
And the reality is that it's not just Grant's son who has his chances in life limited by illiteracy.
Around one in five children in England cannot read well by the age of 11. One in eight disadvantaged children in the UK doesn't own a single book. Some 4.1 million British children live in poverty. 
The vicious circle of poverty and illiteracy
But Harry's story is special. Harry's story has been shared with thousands of people – and will continue to be shared – across the country. It's the main focus of a new independent film, H is for Harry, which aims to raise awareness and spark public debate about illiteracy and educational inequality in the UK.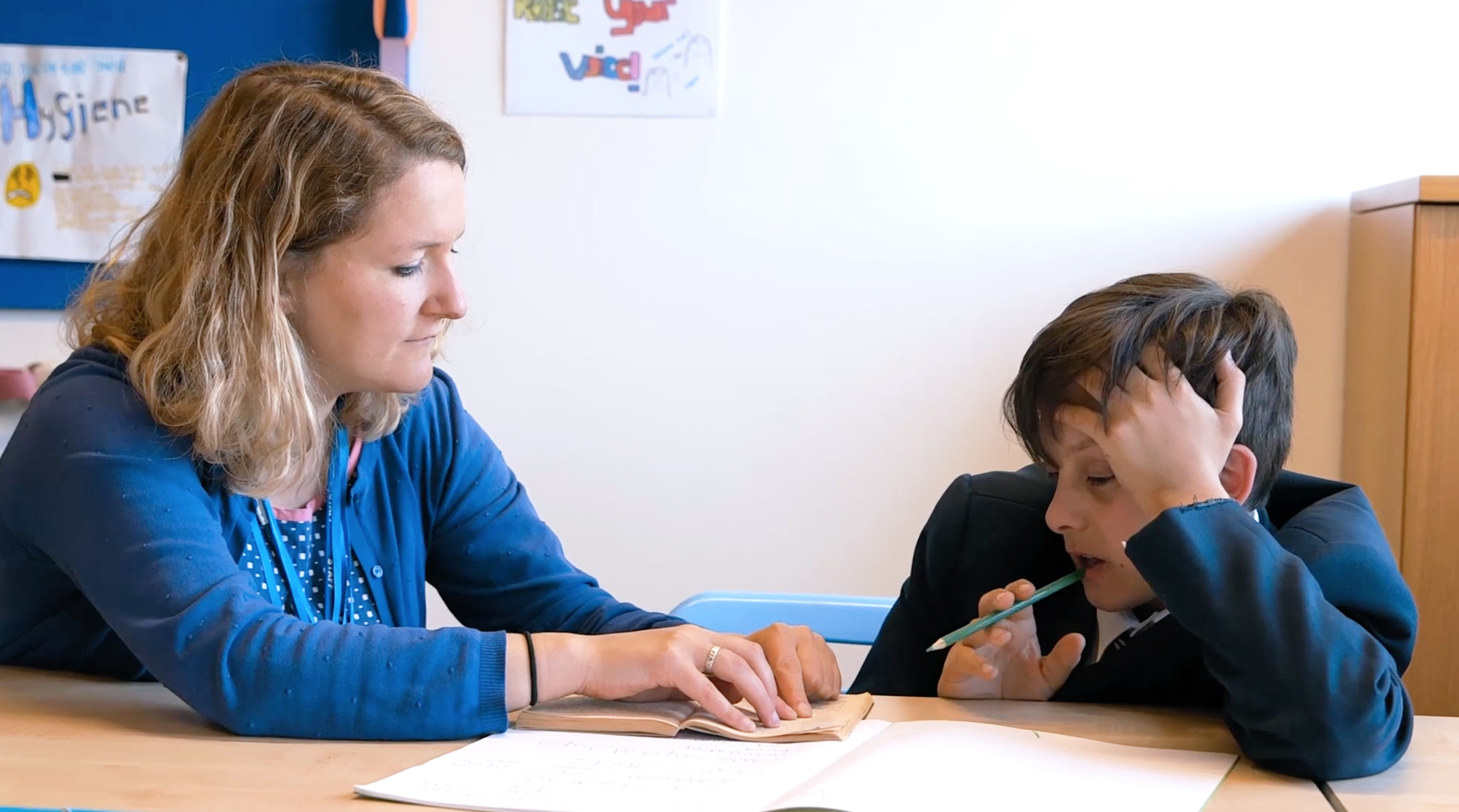 We first see Harry as he starts secondary school unable to read or write. Harry is a white working-class boy, the demographic proven to do the least well at school.
"I don't know if I want to go to college or not. It looks really, really hard. Like you have to write a hundred words and that would take forever," he says. 
"When I'm older I don't want to be the person who is left out, living on the streets. Basically, the aim is, for someone like me, to try and have a better life than my dad."
His narrative is one of struggle, of trying – and failing – to believe in himself. Of English lessons spent away from the full class, with three other boys who receive constant support from Sophie, their teacher (pictured above). She teaches them basic literacy skills: phonics, spelling, writing a sentence. Once they reach a certain standard, they return to the main classroom. When it's Harry's time, the anxiety he feels is palpable. "But I can't spell!" he insists, cleary daunted at the thought of being with everyone else. It's a really hard watch.
But alongside this gut-wrenching story, the innocence of Year 7 and 8 pupils shines through. There are the giggling moments when the class is taught about different types of relationships, the school residential trip to the farm where they learn to chop wood and look after animals, there are the "ah-ha!" moments when they apply knowledge in practice and get awarded with merits.
Harry is involved in all of these moments, too. But his experience differs to that of his peers. At parents' evening, teacher Sophie talks of reading and writing levels with pupils and parents. One girl is performing at a 5c but needs to be at a 6c. Another boy had a 4c, and is a third of the way towards getting a 5c.
She tells Grant that Harry has written four sentences with capital letters and full stops. Pride lights up Grant's face.
In Year 7, Harry makes exceptional progress. But throughout Year 8 – and back in the main class – his confidence wavers. Frustrated, dejected and clearly struggling to keep up, Harry shuts down and shuts school out. 
The school holds numerous meetings with Grant, pastoral support teachers, Sophie and senior leaders. It's revealed that the school spends double the ASN support funds it receives for Harry. 
Eventually, it makes the decision.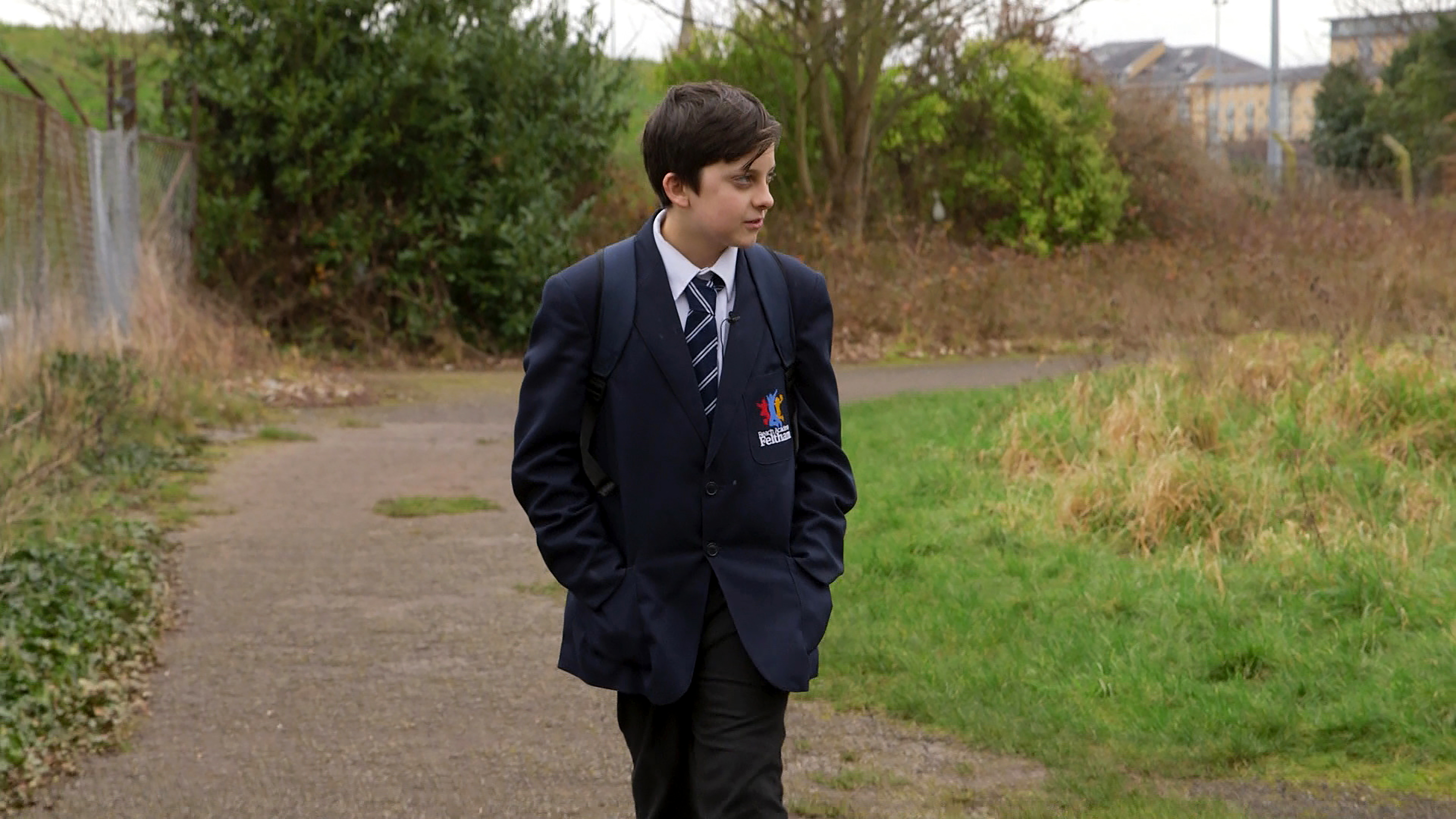 "We knew that Harry was probably going to have to leave because we just weren't able to teach him. It's a small school, it's just a lot of resources," says Sophie.
"In order to meet Harry's needs, we weren't able to meet everyone else's needs in the same way. For Harry it is just that lack of belief; it's hard to always be behind and I don't think he could really cope with that. It did work really well, we just couldn't maintain it long enough to make the difference I wanted it to make, I think. That's what's really sad."
For any teacher watching, it will be clear that the school did all it could. But for others, they may place the blame at Reach Feltham's door – but that would be a mistake: this is a school that in general achieves extraordinary results from a very deprived intake. But, in any case, this is a story in which there should be no scapegoat: not Grant, not the school, and, of course, not Harry.
There's no silver bullet. There's no easy solution to Harry's story, or the many thousands of others like his. Clearly, a wider discussion is urgently needed if we're to stop this vicious circle of illiteracy, educational disadvantage and poverty.
And this film, with its thought- and emotion-provoking narrative, is, at the very least, an excellent starting point to that discussion. With a bit of luck, it will concentrate a few minds, too.  
The film is available in selected cinemas and via schools and settings. Find your nearest showing here. For further information on H is for Harry, click here or search @HisforHarryFilm on Twitter and Facebook