Friday 28 May was a big day in Anthony Gascoigne's household. His step-son was in Bournemouth taking part in a major cooking competition, and Gascoigne was up for FE teacher of the year at the Tes FE Awards.
And while the day didn't start well – there were tears, and fierce competition – as the afternoon progressed, things improved, and Gascoigne's step-son went on to win the competition. 
"At that point, we were like, 'Yes, we've got at least one win of the two,'" he laughs. After the cooking competition ended, Gascoigne's wife and step-son rushed back to Hertfordshire to try and make it in time for the FE Awards.
"They were about 20 seconds around the corner as my category came on… it got announced and they burst through the door. It was bizarre. I was honoured and humbled to be nominated – it's been a weird year," he says. 
It has been a weird year (or two) for everyone, and for Gascoigne, the course team leader of hospitality and catering at North Hertfordshire College, grappling with the changing circumstances not only of his students, but also of the industry they are hoping to join, has been tough. But his dedication and passion never wavered, and earned him a place in the Tes FE hall of fame as the teacher of the year 2021.
---
Tes FE Awards: Anthony Gascoigne, teacher of the year
More: First Dates' Fred warns of hospitality skills crisis
Tes magazine: Colleges' recipe for success with remote learning
---
Gascoigne grew up in a small village in North Yorkshire, Rosedale Abbey just outside of Pickering. He is one of five children, and says his mum was his rock, and took on the roles of both mum and dad for the family. They weren't a well-off family, and she had various jobs to keep them all in clothes, fed and watered, and in school.
Cooking up a storm in further education college
The village was a tight-knit community, and the family "lived off the farms", using local produce where they could – something that has remained extremely important to Gascoigne. His primary school, in the village, had just 20 students, and the leap to a big secondary comprehensive in Pickering was tough for an 11-year-old Gascoigne. 
He says he never really excelled at school, and was a "pretty average student". Perhaps it was because by the age of 13, in the world outside of the school gates, Gascoigne had discovered the place where he belonged: the kitchen. He'd taken on a pot-washing job at the local pub, the Coach House.
"I'm still in touch with the owners, Ray and Jane, and she sent me a picture the other day of me filling in butter pots. You look back, and think, 'My God, that is where I started and this is where I've progressed to.' I really enjoyed it: I enjoyed the freedom, the responsibility, which I wasn't getting from school, and when A levels didn't work out, I put two and two together and I thought, 'I love this job – let's give it a go.'"
He enrolled at Yorkshire Coast College (now Scarborough TEC), which had a very good reputation for hospitality and catering – alumni include James Martin and Andrew Pern – and he learned his craft. The tutors set high expectations and were firm, but, above all, Gascoigne remembers them being passionate. And it's that passion that he hopes he instils in his own students today.
A stellar career in the industry followed: he went on to work for Andrew Pern at Michelin-star restaurant The Star Inn, as well as at Gleneagles and The Heathcote, and he worked for a year in the South of France, and in Sydney, too.
When Gascoigne developed epilepsy, he had to rethink his life. "At the time, the nature of the industry, it wasn't great for me: the stress and the heat and the lack of sleep. Add in the late nights in the early mornings, and the lack of pattern – it didn't help at all," he remembers. 
"I had to think deep and hard about what I wanted to do. I always wanted to stay in food because it's what I love, and I slowly started coming around to teaching." 
Putting passion at the heart of his teaching
His foray into FE began with a nine-hour-a-week assessor role at Lincoln College: it quickly became full-time, and then he made the step into lecturing. A move to the South led to him getting a role at Hertford Regional College, before moving across to North Hertfordshire College, where he has been for nine years. The step from industry to teaching was eye-opening, he says.
"The very first thing I wanted to do was do everything for the students, and I soon realised that, actually, it was physically impossible. Students need to do things for themselves with the right backing and tutoring. A mistake is a perfect opportunity, especially in hospitality and catering, to learn from," he says.
"Resilience is a key thing at the moment with young people: so if mistakes happen, we almost celebrate them."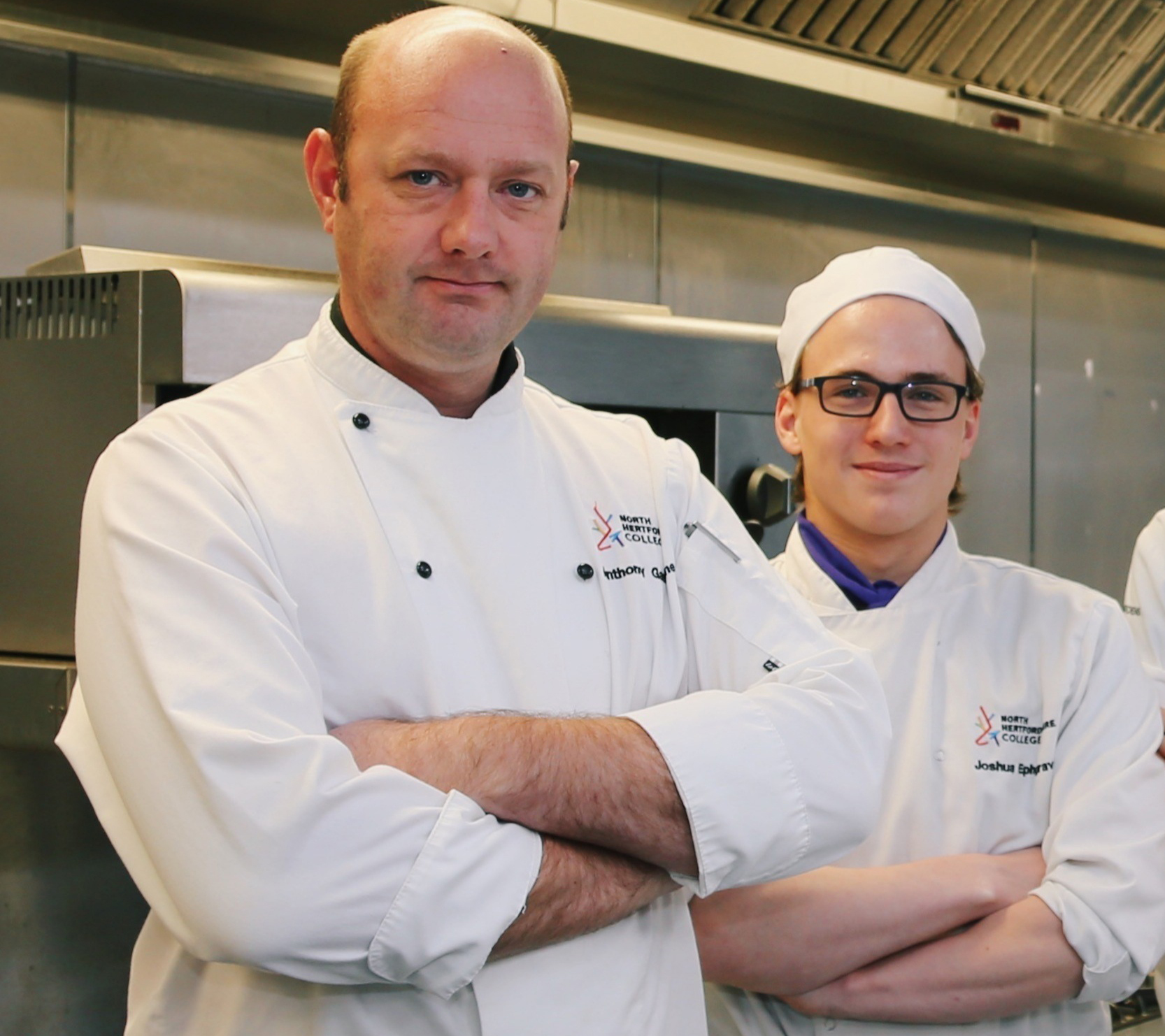 Taking the passion instilled in him by his tutors and passing it on to students is at the centre of Gascoigne's teaching. Why? Because it's crucial to success in the industry.
"I'm in the process of doing the course evaluations, and passion always comes up. I'm always proud of that: I am passionate about the subject, passionate about food and hospitality, but also teaching and young people as well. And they need passion to make it," he says.
"It's one of the industries where you can't sugarcoat it, it's hard work. Times have changed a lot, and it's not the industry it once was: people are being supported more, they're being nurtured more and looked after more, for retention purposes a lot of the time. But it's really important to have the work ethic to be successful, and the passion and the drive and the enthusiasm to maintain a good career in hospitality." 
Connecting the classroom to industry
When judging the FE teacher of the year category, the judges were blown away by Gascoigne's commitment to utilising his connections with industry to further students' careers and experience. He talks about two level 3 students who have just returned from a week's work experience with Pern at The Star Inn with immense pride.
"They've both been offered jobs! Jamie, one of my level 3s, he's taken the full-time job, so he is going to ditch Hertfordshire for sunny Yorkshire and work in a Michelin-star restaurant. I'm really proud of that: being able to use those contacts and creating a community of industrial people to promote the industry and support the students and get students into jobs at the right level," he says. 
"I always think there's a big emphasis on producing the best chefs or Michelin-star chefs. It's not necessarily true: everybody has their level. In some ways, sometimes, it's about making people as employable as you possibly can. I like to think we develop people first, not just chefs. To be successful, you need to be the right person. And if you are the right person, you will naturally do well and naturally go far with the right kind of tutoring."
Gascoigne's influence at his college extends beyond the hospitality and catering department. In 2019-20, he became professional development lead, and is also currently undertaking Qualified Teacher Learning and Skills status, as well as participating in the college's internal Stars scheme for leadership development.
Too often, he says, teaching staff can stay in their own bubble in their discipline –- but pushing beyond, keeping an enquiring mind, can mean anything – and everything – is possible. 
"I've learned so many great things from observing hair and beauty sessions and motor vehicle and construction. It's fabulous because everything is also transferable as well. It's easy to stay in your bubble as a teacher, but sometimes you do need to take a holistic approach and take yourself out of your comfort zone," he says.
And as for his own development and future, Gascoigne says the opportunities have been there, and while he is keen to grow and develop as a lecturer, he's sure of where he belongs: with the students, in the kitchen.
"I will always explore but I think I'll always be doing what I'm doing now. I love teaching,"' he says. "Honestly, I have the best job in the world."