"We're not going for Top 40, we dare to dream. We're going for number one. We're going for it. All out!"
I can practically hear Dave McPartlin beaming through the phone. He's the headteacher at Flakefleet Primary School in Fleetwood, Lancashire, and this year, his school is making a bid for the Christmas number one.
"At Flakefleet, we live and breathe the idea that we dare to dream. We're a little school, and we've got big dreams. "
They're releasing an original song called Light Up, with all proceeds going to the Alzheimer's Society. The song has been written by the pupils, performed by the pupils and comes with a really special message.
"We held an assembly, and we always want to encourage children to have high aspirations.
"One child said: I'd love to be a popstar and get to number one. And we went back to the staffroom and we talked about it and we said, do you know what? Why don't we give this a go? Why don't we write a song for Christmas and see what happens? If nothing else, the kids will have the experience," he says.
McPartlin and his staff asked the kids what message they'd like to give through their song – and they came up with the gift of time.
"We've got really strong links with the local care home, and we thought, let's take some of these elderly folk out and make some memories with them.
"The kids came up with the idea that we might not be a king or queen, we might not be a millionaire, but we can give the gift of time. A lot of the residents aren't very mobile, but I took two to Blackpool and they loved it. For those residents, it's just the most incredible thing," he says. 
"In the single, the line 'light up someone else's Christmas and it might light up your own' rings so true."
Fleetwood enlisted the help of their local community – from the music producers who donated time, to the local high school who let them record it in their recording studio. Blackpool Winter Gardens even offered their opera house for the kids to put on a big show to premiere their song and video.  
"We had the call from Winter Gardens and they said you can have the stage this time next week. It was like getting the call from Ofsted. I got everyone together and said, look, we've got a week, let's put on a show."
And they did. Yesterday, they bused 500 kids, 70 staff and parents to put on a performance to 1,000 people. The video was released at midnight on 29 November and so far two of their videos have had 3 million views each.
"Dorothy, who is so old that she doesn't remember how old she is, told me that at the performance yesterday, that it was the best day of her life.
"That's the whole point. We've all got relatives who don't go out that much. And it's just so important that they make memories," says McPartlin.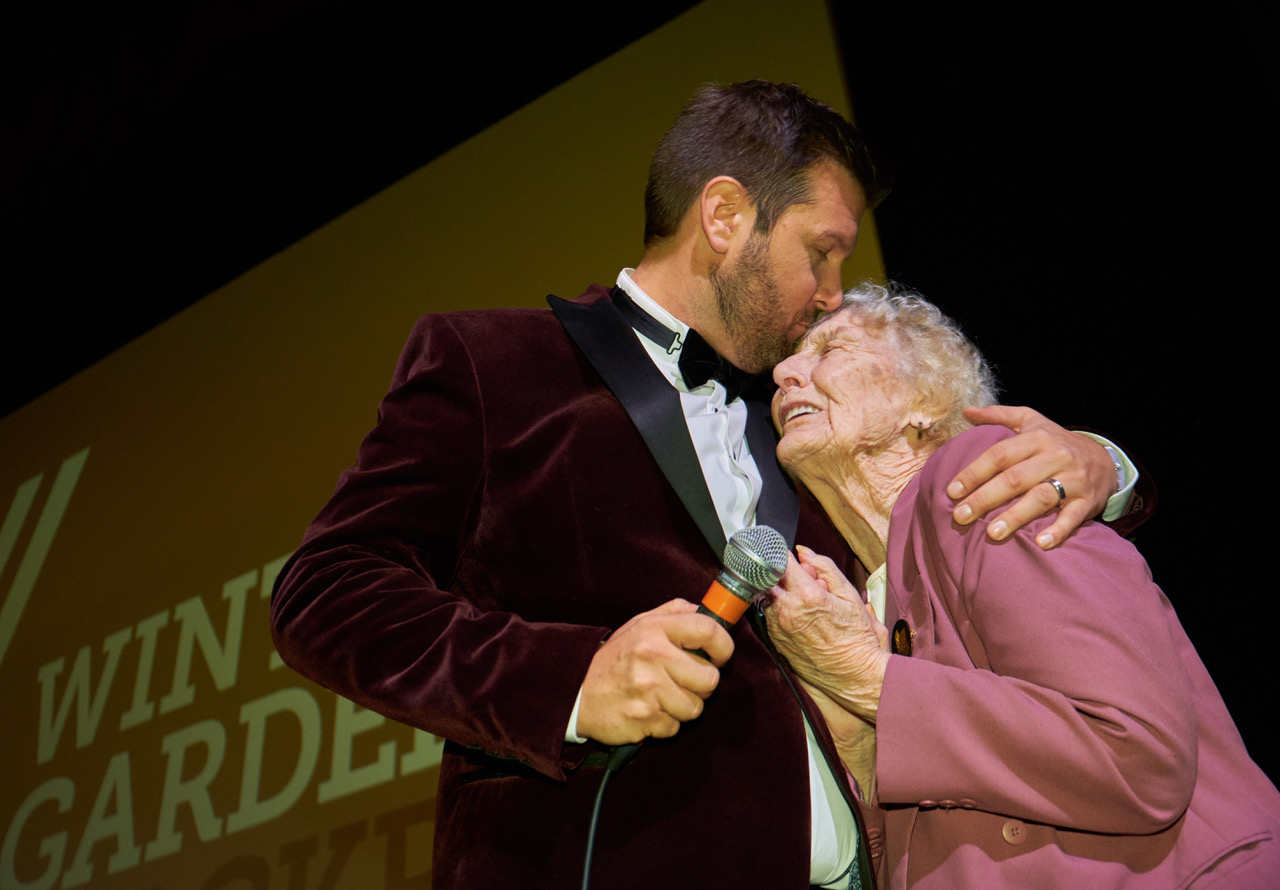 "It's not about ego and self-publicity. It's about encouraging our kids to have aspirations. We want to prove that dreams can come true – we're not supposed to get to number one...but you know Leicester City weren't supposed to win the league", says McPartlin. "But it's about daring to dream, give the gift of time this Christmas and raise money for a really worthy cause."
To pre-order this wonderful single, visit iTunes, or Google Play. The official release date is 14 December