"I've been teaching for a long time, but I wouldn't necessarily say I was the best teacher in my department." 
Sam Jones is nothing if not modest. She describes being named FE teacher of the year at the Tes FE Awards 2019, back in March, as a "surreal experience".
"I didn't really expect to win," she says. "My nomination wasn't just for teaching and it was for research, which isn't particularly recognised in the sector. That was another reason why I didn't really expect to win – because I didn't think my work would be interesting to anyone else."
---
Background: It's time to share pioneering pedagogy
Opinion: What's missing from Ofsted's FE research group? FE
News: Ofsted reveals FE research reference group
---
FE Research Meet founder
The judges, however, clearly disagreed. Her research, they concluded,  "contributes to the national conversation" with its impact being felt not just in her college but across the sector.
#tesFEawards
Congratulations to our superb Sam Jones @FE_lecturer @bedfordcollege
Teacher of the Year 2019
So well deserved pic.twitter.com/wbTbgZwRV4

— Ian Pryce CBE (@ipryce) March 22, 2019
Jones is best known for founding the FE Research Meet movement: a series of events organised by, and for, researchers based in further education institutions. 
And FE research is also at heart of Jones' day job: Bedford College has granted her a day without classes every week, so she can work towards her PhD at the University of Cambridge. The subject is very much rooted in the world of FE, though: the professional development of teachers, particularly those with a background in industry.
Ironically, for someone who has clocked up nearly two decades in the sector, Jones shied away from attending college as a teenager – "it seemed to me a really big and scary place at the time," she recalls – and instead stayed at her school's sixth form in Letchworth Garden City, Hertfordshire.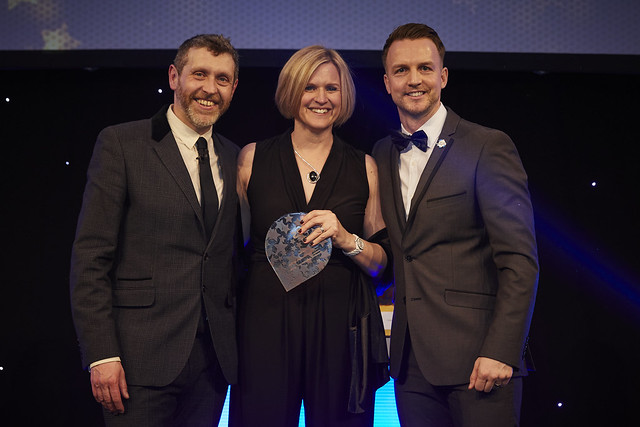 Moving back into education
She enjoyed her time at school. "I loved English literature, always have. I've always read a lot. That's what I did at university: literature and history."
After she completed her studies at the former University of Humberside in Hull, Jones' first job was far removed from the world of education: she sold forklift trucks. When she was made redundant, she got a job as a project buyer for a commercial kitchen manufacturer.
And it was here that Jones started moving into the world of education. She joined what was then known as the Chartered Institute of Purchasing and Supply, and carried out some training at North Hertfordshire College.
From here, Jones moved to mobile phone giant Orange, where she was a buyer. But this corporate philosophy did not suit her: "I realised I really wasn't cut out for negotiation. I found it really unsatisfying: the idea of making more money for a company that already had quite a lot. Big companies don't always treat small companies nicely."
'I preferred the teaching'
Jones decided she needed to make a change, and began a master's in archaeology at University College London. But it was the part-time teaching job at Oaklands College she took on at the same time, simply to pay her bills, that ended up defining her career.
"After the first year, I realised I preferred the teaching and stopped the master's," she recalls.
After teaching business, Jones rose to become head of the department, before leaving to take on an advanced practitioner (AP) role at Bedford College in 2005, initially in business before moving over to teacher education.
It was a move she has never regretted. Today, Jones teaches PGCE students about action research, curriculum design and development, as well as being personal tutor for the full-time cohort of trainees.
"It's hard for them," Jones explains. "They have life going on outside [college], and sometimes it has a big impact on how well they can complete – or whether they can complete. Part of my job is making sure people have the support to complete the course."
'Making a difference'
Jones cites the example of a former trainee FE teacher she recently bumped into in an unexpected place: teaching in a primary school.
"When she was doing her PGCE, she was really struggling with balancing family and work," Jones says. "Now, her son's in the school next door to where she works – she was really happy. That's really nice, isn't it? You've made a difference to somebody's life."
Jones also feels privileged to be one of the dwindling band of APs working in colleges. "I love my job. I really like the idea of teachers leading teaching and learning. It is a rewarding role because I do get to work across college supporting people. It's all just about teaching and learning. I'm really lucky in that respect."
And, after completing her master's at the University of Oxford, Jones is now relishing the opportunity to continue her academic studies at the "other place" – although her focus remains firmly fixed on further education.
"One of the key things that kept coming through, particularly from vocational lecturers, was they just didn't get enough time to update their vocational knowledge. That's what I'm [researching] at Cambridge now. I'm looking at the idea of vocational lecturers returning to industry, and how their knowledge is when they return [to industry] and when they come back to the classroom afterwards.
"I'm looking at how easy it is to bring the knowledge back, and how you can manage to build it into your teaching practice."
Longitudinal study
With a particular focus on engineers – a group of professionals working in a fast-moving sector dominated by technological developments – Jones is completing the PhD over five years, which she hopes will allow her to carry out a detailed study of how teachers' skills change during this period.
"I know when I've tried to deliberately make changes to my practice, it's taken a while. So I will watch that process through observations and interviews, and see what helps people – how long it takes for these kinds of things to drill down – and understand these mechanisms a lot more. 
"Subject knowledge contains such a lot inside it. Not just the knowledge but all the skills that are attached to it. What I see is that tutors are often bridging the gap between the real world and the assessed world.
"They can only do that if they keep up to date with the real world. In subjects like engineering, those industries move really fast. By doing the research part-time over five years, I'm going to really watch them over a long period of time. 
"Vocational knowledge comes from industry. If you don't keep going back, you don't know what there is [in current industrial practice]."
And Jones is grateful for the support she has been given from the college towards her research. In return, she has been able to use her contacts to bring renowned academics to the college, including Professor Matt O'Leary from Birmingham City University, Professor Kevin Orr from the University of Huddersfield and Dr Jonathan Tummons from Durham University.
By FE, for FE: taking ownership
And at the heart of Jones' pioneering work in the field of FE research has been her creation of FE Research Meets – relaxed gatherings of FE professionals with a passion for research. The first took place in June 2017. Three more followed in 2018; for 2019, a total of six events have been arranged in locations across the country, including one in Bedford earlier this month. And the printing of T-shirts emblazoned with the #FEResearchMeet hashtag by Jones' friend and fellow research aficionado Jo Fletcher-Saxon, assistant principal at Ashton Sixth Form College, has created an unlikely (if niche) fashion trend.
"If there are any good ideas, it's always going to be Jo," Jones says, laughing. "People now are really keen to get an #FEResearchMeet T-shirt. We maybe need to start the merchandise line."
But while research in the sector has only recently come to the fore – with Ofsted's belated creation of an FE research reference group (albeit one without any sector-based representatives) attracting plenty of comment – Jones believes that the genuinely grassroots nature of the emerging movement can prove to be a strength going forward.
"It's almost like because no one brought in a [dedicated FE research] body, because we haven't had research schools, we've taken a bit of ownership of it before anyone else has imposed it on us. I was really inspired by [the book] Further Education and the Twelve Dancing Princesses. I think that's what kind of started it off: if someone can get a book published from FE that's just full of voices from FE and about FE, that's brilliant. All of those things build up."
And Jones' ambition is to drive up awareness of research in FE so that it becomes the norm rather than the exception: "People think it has to be a big or special thing and you have to be different to do it. But I work in a fairly ordinary FE college…You don't have to be special to do it. You need a bit of support – but if I can do it, anyone can do it."