When I was in upper primary school, it was 11-plus hysteria time. We had two streams, an A stream and B stream. They used to tell us that the B stream would all fail and that only half of us in the A stream would pass. I remember the teacher standing in the middle of the room with her arms stretched out, saying: children on this side will pass, and all the children on this side will fail.
How did she know? Because she used to aggregate all the test scores for the week, and move us around. Quite often I think about that, about what it taught us. It was a non-curricula lesson in selecting and grading. It was drummed into us all the time who was better and who was worse and who was going to fail and what would happen to us if we failed – we'd all go to this school called Headstone Lane, which was a secondary modern, and if we passed we'd get to the lovely grammar school.
I got very anxious about it. There were four rows of 12, and 48 kids in the class, so if you kept arriving at seat 22, and 19 – as I did – it was a bit too near the cliff. A lot of it was exaggerated, but it was a fence of foreboding that was drummed into us. It was a real time of anxiety even though both of my parents were teachers.
But I did get in, and it was kind of an interesting sort of slightly divergent school. There were various sorts of eccentrics and divergent-minded people: one of the history teachers was Merlyn Rees who went on to become home secretary, there was a man called Mr Halfpenny who was a baptist minister. There was a guy who was a veteran of the Spanish civil war.
There was a little cluster of people who I call the surrealists at the school. Every so often we were trouble and in other moments we caused quite the creative explosion. I suppose, if you want to be pompous about it, you'd call it performance art.
In my third or fourth year at school, we decided to hold an end of the year ceremony on the field and we all dressed up – these were the days of heavily patrolled school uniform, you weren't allowed to be with a button loose – but we turned our jackets inside out and tied our ties around our heads, and we carried out some kind of ceremony on the cricket pitch. It caused just the most enormous furore, because the whole school saw it happening and they rushed towards us, two or three hundred kids, and there was that sort of brief moment when the staff were out of control.
We were more creative than the grammar school system could cope with. This was the last Fifties and early Sixties. We could create these occasions. In the school dinner hall, we arrived with bags and sat down quietly and then suddenly spread the table with a banquet, with tablecloths and chandeliers and plates and knives and so on, with special hats on and stood up toasting each other. I don't know what it was about, or why we did it. I can just see this lad in my year standing up and proposing a toast to Winston Churchill.
I remember the deputy head coming up to me and saying, you must remember Rosen, the ideal grammar school pupil is one who conforms. I remember coming home and telling my dad who was teaching in a comp school in London and him falling about all over the place.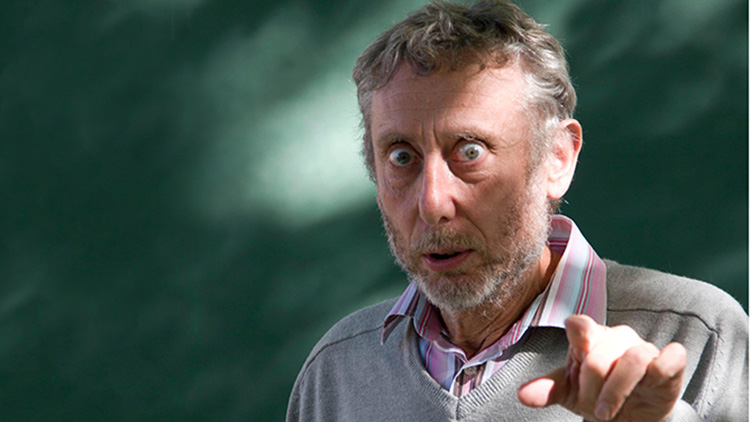 'Mrs Pope didn't need to be like other people'
The teacher who had the most lasting effect was a biology teacher called Mrs Pope. You couldn't invent that as a name for a teacher, could you? She wasn't pope-like at all, she had a sort of very eccentric style. I suppose she spoke a bit like that comedian Natalie Haynes, even more so.
She looked like somebody from the Bloomsbury set: she had quite short cropped hair, and she wore open-toe sandals and long skirts, and no make-up. Sometimes you'd see her and she'd be skipping or dancing along humming to herself. She seemed totally self-contained, somebody who didn't need to be like other people.
She used to say these quite staccato funny little things, and she would laugh at her own jokes, and we'd sit there looking at her wondering what she was laughing at. She utterly believed in hands-on science, and wouldn't let us take notes while she spoke. Whenever we did things like definitions we had to say it back to her in our own words. She made a huge point about this, and when I look back on it, I can see that she was trying to not just make us understand things but also to own them, to possess them through what we had observed and what we were thinking and what we were writing.
I compare that with some of the stuff my own kids have done through the years, great dreary, recycling of four pages of a science textbook and so on, and sometimes without seeing the thing they're talking about, whether it's an earthworm or a piece of metal ore, some of it has just been about learning pages of stuff.
I don't know what the point of that is, I really don't. I don't know what you can do with it, because you know, I'm interested in the idea of science, not just for scientists, but for what you carry through your life, so I'm immensely grateful for Mrs Pope and that I did some science, even though I'm not a scientist. It gives you a way of looking at things, a way of testing hypothesis, arguing logically and when you look up stuff online you can understand it, or when you hear people talking about things. It's a very powerful way of thinking of the world. I think a lot of that came from Mrs Pope and her view that you should make the world your own.
I remember doing that experiment with geraniums, when you put them in the cupboard and they lose the chlorophyll. Then when you take them out they become green again. During some experiments with the leaves and the fact that they went pale, somebody asked: if you put a photograph negative over the leaf, would it produce a photograph on it? It had never occurred to Mrs Pope, and instead of saying, well it might do but try it out at home and let's get on, she said well, let's do it.
So we all got attached negatives to these geraniums, and tried to see if we could imprint our faces on them, and it worked. She was thrilled to bits and said it was marvellous, and I just think of that – you think how formal grammar school education was those days, you had to do this, you had to do that, there was no leeway for anything, but she did it. 
A Dog's Tale
A Dog's Tale: Life Lessons for a Pup is a rhyming picture book about an older dog talking to a younger dog about the fact that something big is about to happen – we never quite find out what that is. It's a story about going out into the world, experiencing new and interesting things, and getting back up when you're knocked down.  
It's for anybody really: it's a poem about parting, leaving and starting. I suppose part of me is thinking it's the feeling that older people want to give to younger people, parents to children, or grandparents to children. 
I hope anyone who's going through any rite of passage can take some comfort from this book – whether they're 2, 4, 8, 10 or even 18. Who knows?  
Michael Rosen was talking to Kate Parker
---
CV
Born: Harrow, 1946
Education: Harrow Weald County Grammar Schools, Harrow, Watford Grammar School for Boys, Watford
Career: Michael Rosen is an English children's novelist, poet, and the author of 140 books. His latest, A Dog's Tale: Life Lessons for a Pup, is available now