If you read my reports from school they'd probably say something like: "Easily distracted, distracts others, but has the potential to be a good student."
My school life was spent laughing a lot, messing around. I loved going, love the banter. By the end of it, I think I was a pretty decent student. I gained some decent results and made a lot of friends. I think friendships are such an important part of school but it's something you don't really think about as a kid.
I loved PE, obviously, but also loved drama and performing arts. I loved taking part in the plays, things like Bugsy Malone and A Christmas Carol.
I was really lucky because I had quite a few good teachers over my time at school. A guy called Mr Owen sticks out. He was head of Years 7,8 and 9 when we were in secondary school. In terms of discipline, he was really good – there were a fear factor that he created, but there was also a respect that he created, which was major. He was all about trying to make you the best student possible in your time at school.
He was intimidating in sheer size: he was a big bloke, very tall, very broad shoulders, and he could very much stare you down. There was an intimidating vibe about him when you were called into his office. When you were called by him you thought, "Oh my God, what am I going to say? What am I going to do? I've made a mistake." But when you got in there he would talk to you and never raise his voice, and really make you understand what you'd done wrong, and he made you regret it.
I was called in quite often… I just talked too much and was too giddy, especially after break when I'd been playing football; not calming down, not getting down to work quick enough. Nothing crazy, just young boyish stuff really.
Discipline and inspiration
He wrote me a couple of letters after I'd left and I've been back to the school to see him. They were quite personal, and it was very much of what he was doing in terms of discipline, and how he hoped that, as a young man, it had been part of my development.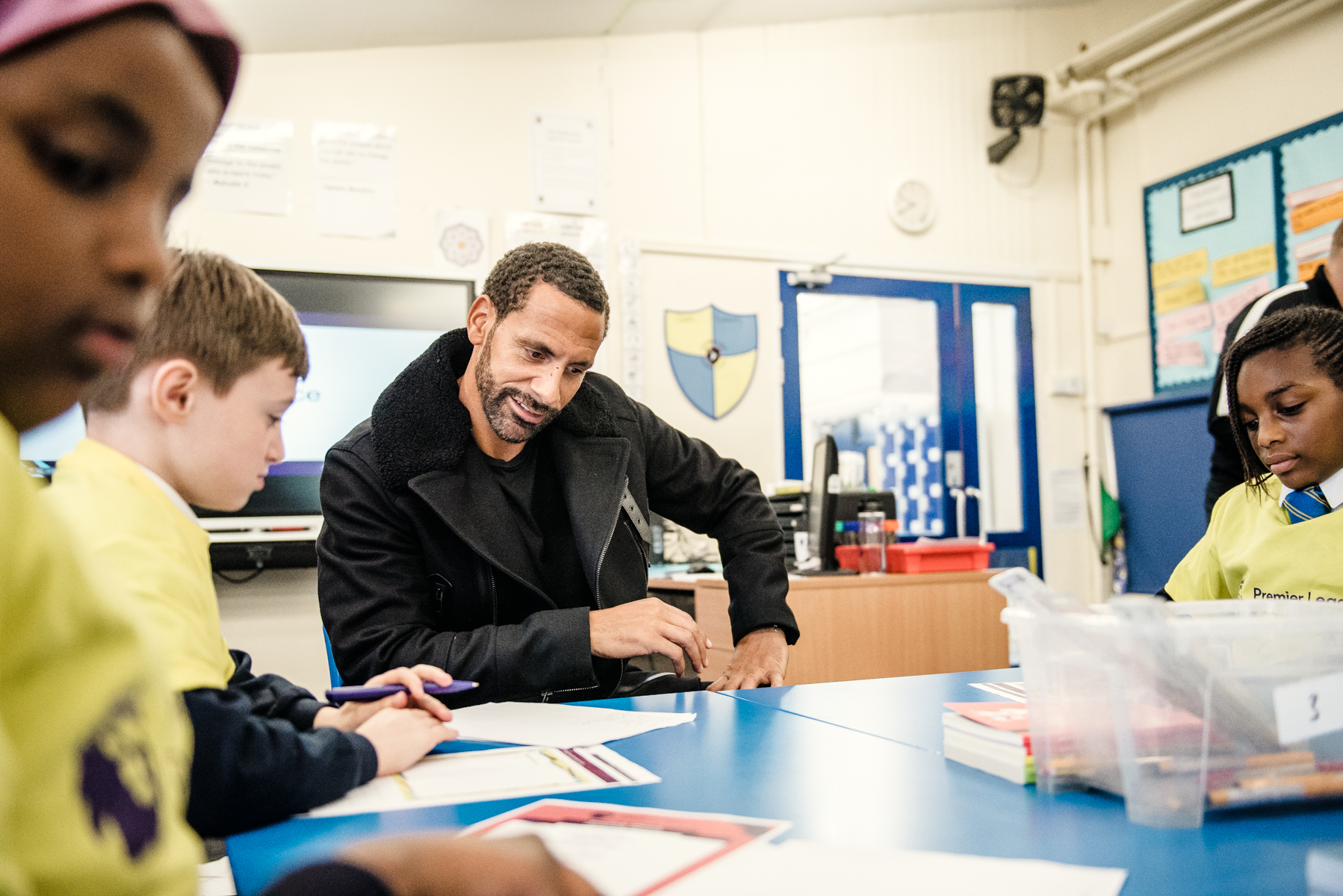 I'm back at my old primary school today as part of the Premier League Writing Stars competition. It's nice to be back. When I came here, it felt like a big massive school, but it's all very small now. Low ceilings, small chairs, small tables. The rooms are a lot smaller than I remember them.
There's one teacher left here, a support teacher in a class, and she was here when I was here. She's one of my friend's mums. Everyone else has gone, the headteacher, the dinner ladies. It was nice to see her – she filled me in on a few things.
It's weird, just a few days ago on Sunday, I saw one on my teachers who was in this school that I haven't seen for like 25, 30 years: Mrs Cleeve, I saw her in the train station, which was really kind of crazy. I spoke to her, and she was telling me about a few things and said that she remembered how I was always playing football at school, and told her that I didn't need to learn because I was going to be a footballer.
I've been talking to the kids and telling them about my experiences. Through Premier League Writing Stars, we're using children's passions through football to inspire and to write poetry and obviously this year it's about diversity and celebrating our difference. I've travelled all over the world with football and being able to bring those experiences to the children, I think it's quite important for them to understand.
I come from the estate from right across the road. You can see my house from the school, and for them to have that here and to start thinking to themselves, "Actually, there is someone who has achieved some positive things in life." They see it on TV and look on the internet at what I've done and see that I'm from the same place as them; that's very powerful for a kid. When I was a kid, I wanted to see people that had achieved stuff where I'm from, and that's what inspired me the most really.
There were a few little ones in the class who were saying they were going to be great footballers and were going to play for England, and whatnot. I told them to work hard and make sure they put everything in what they are doing. I think it's important that as a kid, you need to enjoy it, but it always comes back around to working hard.
---
CV
Born: 1978, Camberwell
Education:  Camelot Primary School, Peckham, and Blackheath Bluecoat School, Blackheath
Career: Rio Ferdinand is a former professional footballer, who played for England, Manchester United, West Ham and Leeds United, and is now a BT Sport presenter. He played for England 81 times between 1997 and 2011, and is one of the most decorated English footballers of all time.
Premier League Writing Stars is a poetry competition open to primary school pupils in England and Wales. Entrants must pen a poem around the theme of diversity – celebrating our differences and similarities – for the chance to win some exciting Premier League prizes. Teachers can register at PLPrimaryStars.com to enter their pupils' poems before the closing date on Friday 21 December