Pupils living in the poorest areas are missing out on the most schooling during the Covid-19 crisis, new analysis shows.
The "overall national message" on school attendance, for which rates "do not sound too bad", actually "hides strong regional and local differences", according to new analysis from the research institute FFT Education Datalab.
This "brings more bad news for inequality and social mobility", as it shows "the pupils missing the most schooling are found in the poorest areas of the country", the analysis found.
---
Exclusive: Poorer schools hit twice as hard by lockdown
Research: More Covid cash needed for poorer 'double-blow' schools
Closing the gap: Lockdown's challenge for teachers
---
The research echoes a recent Tes investigation that found primary schools with the most disadvantaged pupils had only half the attendance rates of those serving the most affluent intakes during lockdown.
Looking at attendance in state secondary schools on 15 October, and comparing this with the rate of positive tests among 25- to 34-year-olds in each region, the experts found that attendance "tends to be lower in regions with higher infection rates, as community infection spreads into schools and some children are sent home".
And within regions there is "considerable variation in attendance between local authorities", the analysis showed.
The regional pattern "broadly matches the virus infection rate, but not perfectly; other factors are also at work", the experts found.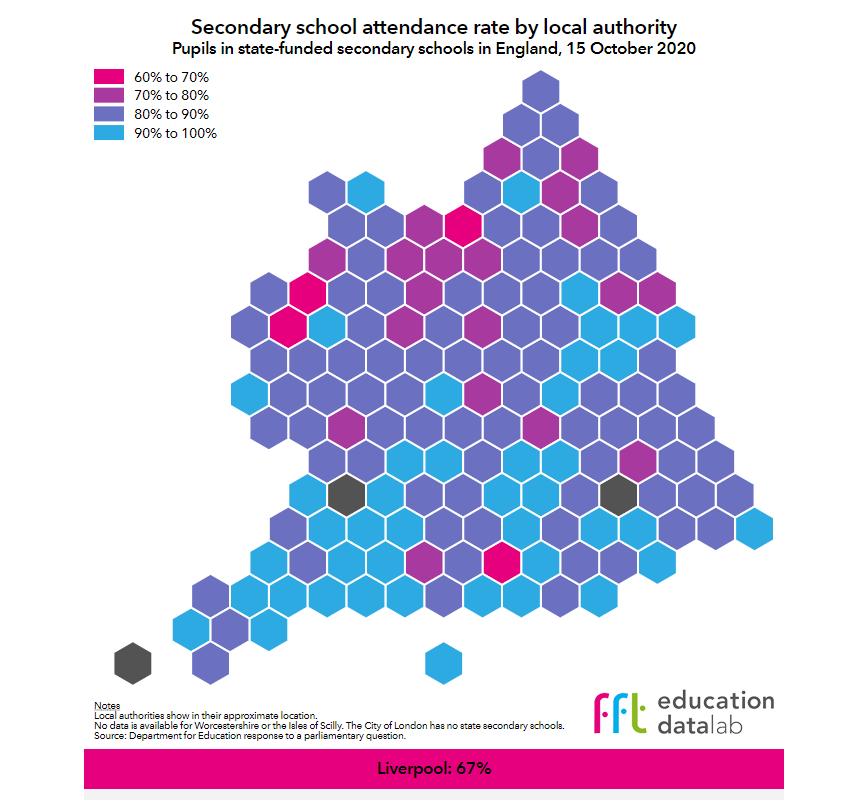 "We must also remember the LA data are averages, so there will be schools below these – maybe even some schools below 50 per cent attendance," they added. 
"School-level data must exist as this is the level it is collected at; it would be very useful if this was published, to help all those working with schools to understand where support is needed most."
Examining the relationship between local absence and disadvantage rates, the experts found that, in the North West of England, there is a "very strong relationship between school attendance and disadvantage, with school attendance lower in LAs with high disadvantage".
A similar pattern was found in the North East, Yorkshire and the Humber and the East Midlands. But this was not true for London or the West Midlands, the experts noted.
"In short, it seems that local and regional variations in prevalence are influenced by poverty and also affecting attendance," they said.
"Covid-19 infection rates are higher in poor areas, and high ambient infection rates result in more pupils having to drop out of school to isolate."
They added: "Once again, the biggest hit to future life chances is felt by those in the most challenging circumstances.
"This is rendered even stronger by the fact that we know that online remote schooling has worked least well for poorer families. In part, this is due to lack of suitable networked devices in such households.
"Schools continue to be hit very hard by the Covid-19 pandemic. School staff are being resolute in trying to maximise learning in a very difficult situation, providing both classes to those who can attend and online classes and other materials for those who can't. Not to mention having to cover the classes for teachers who are also off due to Covid-19.
"But the high rates of local infection and the inadequacy of the Covid-testing regime means that a lot of schooling is being missed, despite it being a 'moral duty' to keep children in schools.
"And, as we see again and again, the pandemic is exacerbating inequalities and reducing still further the chances of 'levelling up'."