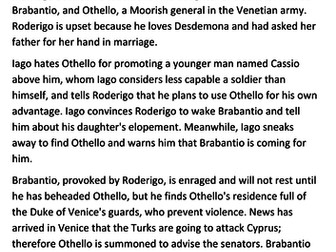 Quick View
Othello Handout - Summary Overview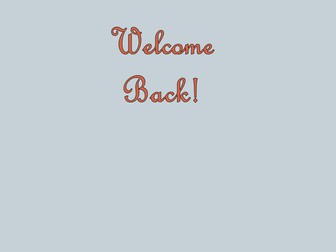 Quick View
A unit of work on 'Othello' for A Level Lit designed for the old AQA A spec (last exams 2016) in which students write a 3 way comparative essay on a Shakespeare play and two other texts. Obviously these resources can be adapted to suit new specifications!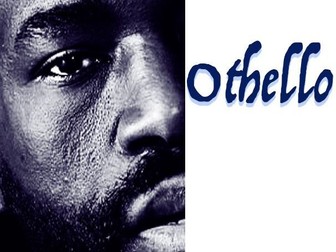 Quick View

Included in the GCSE Shakespeare pack are all the tools and tips to answer the exam question on drama. There are - handouts and exercises on plot, character, themes, writer, and the nature of drama a glossary of dramatic terms an explanation of the three unities how to structure your essays the use of P.E.E. rhetorical devices chart revision tests a connectives chart (discursive markers) 20 GCSE questions model exam answers links to instructional YouTube videos form, structure and context 40 quotes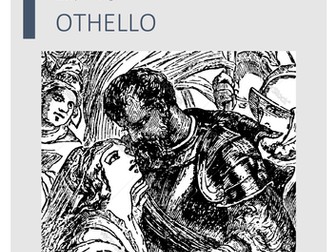 Quick View
A 6 page handout for students A question is provided and students are led through the process of writing a response. Includes detailed prompts, planning activities, explicit examples for students as they work on their response to the question. An example of a B range response is also provided. Created for Year 11 English Advanced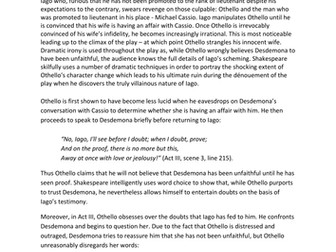 Quick View
Higher English Othello 3x critical essays: The first is approx. 1100 words and focuses on the way in which Othello's character is developed throughout the play. The second is around 1000 words and discusses the significance of Act V, scene II of Othello. Essay three is around 1000 words and explores the deterioration of relationships within the Othello. 1 page of essay questions on Othello Essay four is on the Shakespeare play Julius Caesar. Approx. 1000 words. The essay explores the theme of revenge. Essays five-eight are on Shakespeare's play 'Romeo and Juliet'. The essays are approx. 1000 words. The fifth essay explores the way in which the play portrays the values of its society. The sixth essay discusses the way in which Tybalt's death scene may be interpreted as a key scene in the play. The seventh essay looks at the key theme of love versus hate. The eighth focuses on how the key theme of romantic love is conveyed. There is also a discussion questions document included (which may be used as part of a whole class activity or as a homework sheet) and a list of key quotes (which may be useful as a student hand-out). Higher English Macbeth sample critical essays based on SQA exam questions: 9) essay on Macbeth's character flaws (approx. 1100 words) 10) essay on a central character's changing attitude (approx. 1100 words) 11) essay on the way in which a dominant mood is created (approx. 1000 words) 12) essay exploring manipulation (approx. 850 words) 13) essay in which a power struggle is central to the action (approx. 800 words) These could be used as examples when helping students prepare for writing critical essays under exam conditions. Quick View

Lesson Plans: GCSE Drama. Othello by William Shakespeare.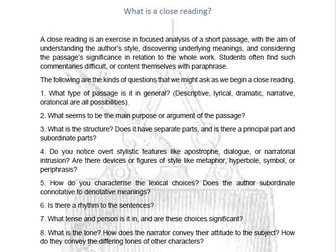 Quick View
Shakespeare's tragedy about race and manipulation is an established favourite for senior students. Since the bulk of English literature units focus on close textual analysis, the ability to perform 'close readings' is essential for students of literature. This handout provides a a brief, student-friendly explanation of what a close reading actually is and how to perform it, followed by a sample close reading of the opening passage. Quick View

Othello by William Shakespeare: Study Pack. Worksheets and resources looking at key quotes, character and themes. Skeleton coursework essay plan included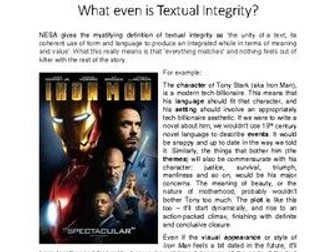 Quick View
The What Even Is… series of worksheets explains some of the key concepts in literary analysis, with examples from familiar and popular books and films. There is a single page explanation, with appropriate images and graphics, followed by a question which exercises students' knowledge and understanding of the concept. Two short texts aimed at different abilities and levels are given for the question. This handout, explaining the concept of textual integrity, asks students to exercise their understanding of the term on a meme about Batman and Ironman, and a soliloquy from Othello.