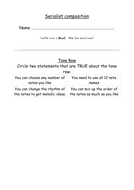 12 Tone Serialism worksheet
Taking pupils through the process of composing a 12 note tone row, retrograde, inversion and retrograde inversion. These can then be used as the basis of a serialist composition.
Other resources by this author
Created as an assessment task to complete a week's lessons on writing strong opening paragraphs. Seven story ideas are provided in a variety of gen...
kerryjk
A set of worksheets to help pupils understand and work out major and harmonic minor scales in different keys, using a choice of three methods; a ch...
kerryjk
A selection of four scenes, in various genres, for pupils to compose descriptive music to. I prepared these for an able year 7 class studying a uni...
kerryjk
Popular paid resources
This is a revision guide for all of the GCSE topics on the new OCR Specification, including: Rhythms from around the world Conventions of Pop Film ...
nellyates5
This Year 7 Music exam has been created to cover a range of music knowledge most students would have covered. The first half of the paper includes ...
kn0854
Are you a new music teacher or a veteran music teacher looking for some fresh ideas? Want to have a fantastic first day in music? Look no further! ...
pitchpublications
Updated resources
The Nutcracker coloring pages are here! Looking for the perfect activity for your Nutcracker unit and/or Nutcracker lesson plans? Need something fo...
pitchpublications
Looking for a differentiated and exciting way to practice reading rhythms and studying form in the Nutcracker? Use Rhythm Basketball to bounce to t...
pitchpublications
The Nutcracker coloring pages are here! Need a way to give a quick overview of the Nutcracker story to go with your Nutcracker lessons this season?...
pitchpublications