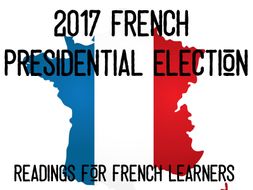 2017 French Presidential Election - reading for int/adv French learners
The 2017 French Presidential election is an interesting political event with a lot of possibilities that could change the direction of Europe - or continue the status quo. read about the election system, the candidates, and how the voting process works in this reading for intermediate or advanced French learners.

includes a 3-page reading, comprehension/discussion questions in both French and English, answer key, and linked additional resources.
Read more