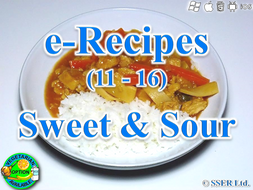 25.   Sweet & Sour (e-Recipe)
One of 60 e-Recipes which use a step-by-step approach to engage students in preparing popular school dishes. The e-Recipes help students become more familiar with pertinent terminology, cooking techniques and the presentation of dishes. Students gain in confidence, knowledge and become more independent learners – they no longer need to ask "What do I do next?". Use of iPads or other tablet devices encourage and facilitate independent learning. This presentation (.pptx) consists of 30 slides and the colour & greyscale print/projection masters are in .pdf format.

• Suitable for a single computer, network, interactive whiteboard or digital projector.
• Fully editable in PowerPoint (.pptx file supplied).
• Works on all operating systems where MS PowerPoint has been installed, e.g. Windows, Mac OS, iOS and Android (this presentation is flash-free).
• Our e-Recipes save you hours in the preparation of high quality lessons.

Currently, the TES store for Premium Resources only allows a PowerPoint preview to consist of one content slide plus the Cover Slide and End Slide. Therefore, we have included a view of all of the slides plus some other information as images (.png files) to allow you to appreciate the full content of this e-Recipe presentation - you do not need to retain these images after download - just keep the .pptx file and the two .pdf recipe files.
About this resource
Info
Created: Jan 9, 2017
Updated: Feb 22, 2018
Other resources by this author
One of 54 PowerPoint presentations (Sets 1 - 6) which together cover the new AS and Year 1 A Level topics for Edexcel (B). Also suitable for some o...
RGeorge15
One of 20 interactive PowerPoint presentations (Sets 1 - 4) which together cover the core content of any Food Technology/Nutrition course in the 14...
RGeorge15
One of 20 interactive PowerPoint presentations (Sets 1 - 4) which together cover the core content of any Child Development course in the 14 – 16+ a...
RGeorge15
Popular paid resources
A peer assessment task that allows pupils to assess a peer's classwork, final product or model that they have completed. It also allows peers to se...
InformingEducation
This is a handbook that I have produced includes the basic background information on break-even analysis and some exciting tasks for learner's to e...
gohar_khan
Comprehensive tracker and assessment sheet, for use with the new EDEXCEL DT A Level.
CraigScott1980
Updated resources
colour coded specification to match the colours on the units of work
cazz124
Student workbook for complete "class notes" to take into unit 2 assessment . complete ppt of unit 2 content- USE UPDATED PPT complete slides 8 to a...
cazz124
Developed to be delivered with the new AQA NEA for DT. Complete PowerPoint that takes students through each section. Clear and precise assessment t...
CraigScott1980