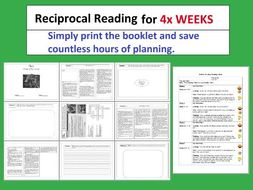 3# - Reciprocal Reading Booklet - 4 weeks of activities - Nails - by Paul Jennings - guided reading
3rd Reciprocal Reading resource uploaded by trabzonunal.

This is a Reciprocal Reading resource for KS2 based on the short story (Nails) written by Paul Jennings.

It is a resource that includes 4 weeks of work, all planned and ready to be used from the moment it is printed.

This resource includes:
- The full version of Nails - written by Paul Jennings (less than 5% of a book)
- 4 weeks of pre-reads with activities and reading materials
- 4 weeks of Follow-up activities
- 4 weeks of News article worksheets to be completed after the Follow-up
- Assessment sheets for the teacher to take notes
-a timetable if you wish to use (please assign your own groups into this section)
-ready made questions for the teacher to use after pre-reads.

This resource should save you teachers a considerable amount of time as you will no longer need to photocopy a book or an activity sheet, simple just print this booklet and enjoy four weeks of no planning.

*Please note, the story taken from the book of 'Thirteen unpredictable Tales' simply contain no more than 5% of the book. Therefore, you do not need photocopying licenses.

"No, schools and universities still need to hold photocopying licences. However, where works are not available under licence, a teacher may photocopy extracts from works without worrying about copyright infringement, as long as they copy no more than 5% of the work per annum." (Intellectual Property Office, Exceptions to copyright: Education and Teaching, 2014).
About this resource
Info
Created: Dec 26, 2016
Updated: Feb 22, 2018
By adding a School licence it allows you to share this resource with colleagues at your school. Without it, this resource is licensed for use only by you. Read licence details